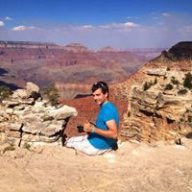 New Contributor
Read Fastlane!
Read Unscripted!
Hello everybody,
My name is Stephen (its English version, at least), and I come from central Europe. I've known for a long time that I want my life to be different, rather than ordinary. That I wanted to enjoy this one life I have and not spend ~40 years of it working for someone else for the majority of every day. I had the luck of falling in love with English and learning it very easily and quickly, which allowed me later to read books that either weren't translated into my language or that simply had slightly different meaning in the original compared to the translation.
So I started with the best selling and famous books such as Rich Dad, Poor Dad, How to Win Friends and Influence People, one book about selling I can't remember the name of, etc. I also joined an MLM that helped me with further reading and motivation to not be ordinary, even though I never made it far in that business. Eventually I came to the conclusion that while I haven't started a business yet, I can still learn and got interest in investing. Of course being young and having low salary meant that I was effectively embarking on the slowlane journey, as I came to know it after reading
TMF
. I felt that I was already miles ahead in terms of thinking, spending, saving, compared to the average Joe. However it was only after reading
TMF
that I realized I had to change my mindset yet again.
After TMF I dove into
Unscripted
, which I still haven't finished, mainly because of finally joining this forum, where I found another well of information to be absorbed by the greats of this community, hence the gap between joining and introduction -- there has been a lot of lurking and reading involved. I originally found out about TMF on Reddit, however the entrepreneurial community there is nowhere near the quality of any single random post here, so now I spend a lot of time here and know that I have a LONG way to go.
In terms of entrepreneurial success on my part, there are none so far. I am still changing my mindset, mostly thanks to the Astonishing Secrets thread by
@IceCreamKid
, realizing there are so many layers and not just the "I want to be an entrepreneur so that I have a lot of money and eventually a lot of time to enjoy life." Learning to find problems in people's talks, learning about copywriting, humility, endurance, and other qualities of the top entrepreneurs. I still struggle with finding the problems within conversation with other people, not least due to the fact that I am a totally phlegmatic person, meaning that I don't see problems in most of the things other people do. I guess I still have plenty to learn. This community definitely gives me the hope that I will be able to accomplish what I seek one day.
To say that I have no entrepreneurial experience would not be totally true, however. My girlfriend, albeit a pianist, embarked on an entrepreneurial journey some 2.5 years ago, and for about the last year I have a bigger part in that business (a blog and piano related products - ebooks, video courses). For now we have it only for our country in our language, and I would love to push it internationally eventually, however at this point she doesn't feel like she's there yet. So I help out in any way I can, be it insights from TMF by
@MJ DeMarco
, anything I find on this forum, or anything from my skillset. For the time being I am helping out with her business, until I find an idea for my own that could truly propel me to the Fastlane.
Thank you to anyone who took their time to read this, thanks to everyone who at any point in time posted any valuable information to this forum so that even newcomers today can read it and reap the benefits of your wisdom, and of course thanks
@MJ DeMarco
for writing TMF and creating this forum. Once I feel I read enough on the free side, I will dive into the Inside. For now though, back to the lurking, as I much rather read than write - usually not many people want to read that anyways.
Have a nice day everybody