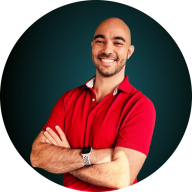 Bronze Contributor
Speedway Pass
Hello everyone, my name is André Casal and I've been a computer science teacher and web developer for more than 13 years.
My story
I've always been ambitious and had huge dreams, particularly when I was a kid. Unfortunately my social environment and my parents in particular, constantly fed me the "go to school, get a degree and find a good job" storyline. The pressure was immense and, specially during my master's in electronics and telecommunications engineering, I've let my dreams morph into impossible utopias.
Until I found Tai Lopez.
I bought Tai Lopez' 67 steps program for 67€ (1€/day) and it marked a big turning point in my life. On that program, Tai Lopez infused my mind with pretty worthwhile ideas, particularly these:
1. Read good non-fiction no-bullshit books EVERY SINGLE DAY
2. If you learn from it, there are no failures, only experiments
Since then I've read many books on how to stay healthy, philosophy, ethics, business, real estate, software engineering and a myriad of other topics. That path lead me to The
Millionaire Fastlane
and I found it awesome that it called other authors out on their paradox of practice. I've never understood how Dave Ramsey could have gone from broke to millionaire three times just by saving. Now I understand
I found The
Millionaire Fastlane
invaluable.
What I'm doing now
Now I'm trying to get my fastlane business off the ground. I'm currently working on an image compression service at
CompressMe
but to be honest, I'm not sure if that's a valuable enough service. Also the value of such service decreases as technology's efficiency increases. I'm thinking the people that would get the most value from this service would be professional designers and other professionals that get bloated images out of their software (particularly PNGs). I can compress them by 60-80% with no visible loss in quality.
I know there are other image compression services out there, but I'm fairly confident I could put a better service out there. I could build application specific hardware to implement the algorithm, improving compression performance, offer a minimal interface for non-logged in users and a full-blown image compression suite for logged in users. All for free. I could generate revenue with ads and/or an API service.
Either way, one thing is for sure, I have the know-how and I want to focus on computer systems to add value to people.
And that's my story folks
Thanks for having me!