Sweeping Shadows from Dreams
EPIC CONTRIBUTOR
FASTLANE INSIDER
Read Millionaire Fastlane
I've Read UNSCRIPTED
Speedway Pass
Jan 14, 2013
3,578
22,580
4,306
Parents. Relatives. Friends. Family. Co-workers ...
Tell anyone of your entrepreneurial ventures and they'll tell you you're
crazy
. It's
risky
. A job is steady. Safe. Secure. Be like us. Join us. Be safe. You have
responsibilities
. Now there's a website dedicated to showing just how "safe" and "secure" their job really is.
Will Robots Take My job?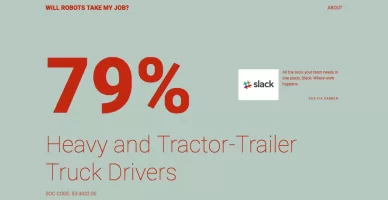 Don't like ads? Remove them while supporting the forum. Subscribe.