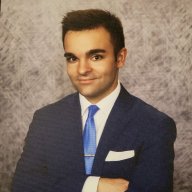 New Contributor
Read Fastlane!
User Power
Value/Post Ratio
50%
Aug 20, 2022
12
6
I just got done reading Chapter 29 of
Unscripted
(The wonder twins of epically bad life advice), and it got me thinking about how I dodged a bullet early in my career. When I graduated four years ago, I thought I wanted to work in sports marketing because the sports industry was my "passion." I had visions of working for the hometown Philadelphia Eagles and stuffing my face with cheesesteaks all day. It wasn't until I started networking with people in the sports industry that I found out the industry was not for me.
The people I talked to told me about how they worked long hours with low pay in the sports world. A guy I spoke to who worked for the Dallas Cowboys hated the fact that he couldn't be with his family on Thanksgiving because he had to be at work. Since so many people want to work in the sports industry, the turnover is massive.
I currently work in the healthcare industry, which is paying me a good salary to help me grow my business. On Glassdoor, I found out that the same position I have in healthcare pays around $25k less in the sports industry (I work in
email marketing
).
Has anybody had any Neo-esque moments of dodging passion bullets? Have any of you worked in the sports industry?