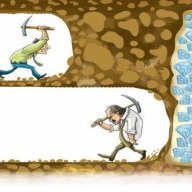 Never give up
FASTLANE INSIDER
EPIC CONTRIBUTOR
Read Fastlane!
Read Unscripted!
Speedway Pass
User Power
Value/Post Ratio
454%
May 1, 2011
6,835
31,027
You've probably heard it at least a few times before: you're the average of the five people you spend the most time with. Personally, I can't stand hearing it in every single article about being successful, but there's some truth in it.

Social influence is real - we tend to behave in a similar way to people close to us. We copy their vocabulary, gestures, share at least some of their opinions, and often, even expectations and ambitions.

I've always been a loner and it never really bothered me that I didn't fit in. At least I wasn't imitating the masses and blazed my own path.

But recently I realized that if you want to grow, sooner or later you should spend more time and energy developing relationships with people who will inspire you to get to the next level.

It doesn't mean not hanging out with your current friends anymore, cutting people from your life just because they aren't entrepreneurs or looking down on anyone who doesn't share your views. It simply means upgrading your social environment so you can expose yourself to new ways of thinking, new perspectives, new standards, and ultimately, accelerate your personal growth.

Hence, this thread. I'd like to use it as a sort of a depository of the best lessons, strategies, articles, videos, and other resources specifically about developing relationships with top players as I know that if I have issues with that, other probably have them, too.

I need to emphasize that this isn't merely about making new friends - I'm talking specifically about connecting with people who think big, whether they're successful businessmen, investors, athletes, musicians, authors, public speakers, doctors, lawyers, filmmakers, etc. - including people who aren't A players yet, but are on track to become them.

And just so it's clear: this is about connecting with them because you know that you can be of value to them (and obviously, they can be of value to you), not because you just want to get something out of them.

Now that we're done with all the disclaimers, let's start (continued in the next post for readability)...