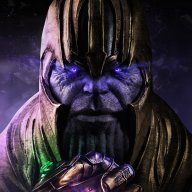 Bronze Contributor
Read Fastlane!
Read Unscripted!
Speedway Pass
User Power
Value/Post Ratio
160%
May 25, 2015
132
211
Hands down the best Marvel movie to date in my opinion.
Mostly if not entirely because of Thanos
. I think he's unquestionably the best villain that they've ever had. You could even argue that he's not really even a villain.The action for the most part is done well.Bigger Dinklage was a huge surprise .
God damn!!! Thanos is awesome!