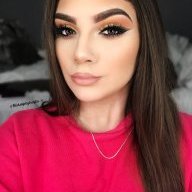 Contributor
Read Fastlane!
User Power
Value/Post Ratio
388%
Jan 2, 2018
16
62
25
Hi everyone! My name is Kayla and I am 19 Years old, turning 20 in February. I'm super excited to be apart of this forum to connect with awesome, likeminded people!
To start off, I am a Makeup Artist located in Columbus, Ohio who aspires to become an entrepreneur. I have a passion for makeup and the beauty industry and I love transforming the way people look and feel about themselves. I've been doing makeup on myself for almost 6 years now, but I just started freelancing not even a year ago.
This all started last year when I had a wake up call, mostly all because my boyfriend of almost 5 years told me what he wanted in life and that he didn't want to be living the slowlane lifestyle forever. I never realized how the system worked and that I was basically under a spell. "Go to school, get a good job, save 10% of every paycheck, retire, then die." To me that is something that really scares me now. Why would I want to live life without achieving anything I want or dream of? I always knew there were people out there who were living their dream becoming millionaires, but I never thought that could be me. Until Now.
I didn't really start taking action until around the middle of 2017. A lot of that year was me being an action faker. I knew what I had to do, I just didn't want to leave the safe feeling of my comfort zone. Once I stopped bullshitting around and really realized that my time is something that I should value more than anything, thats when I started taking control. I started watching a lot of youtube videos on mindset, taking action, and just educational videos like TedxTalks, Gary Vee, Brian Tracy, Bob Proctor, Lisa Nichols, Simon Sinek, and a bunch more. I'm changing my mindset completely, from living the sidewalk and slowlane to living the fastlane.
After reading Think and Grow Rick and
TMF
, I had a serious kick in the a$$ about how I was thinking and living. It needed to change. Now I can say that I am more focused on the process then the result. As of right now I'm freelancing on models and working with different photographers to build my portfolio and to just get out there. I have recently started a blog about what I know about makeup application, tips and tricks, reviews of products, and more. What I am trying to achieve is owing my own makeup brand. I don't want to create something new, but make the existing products better than everyone else. I've been doing a lot of research on what brands lack, problems, solutions, and ways that I can be a producer and not a consumer. If you read this whole thing and have any questions, tips, or anything else to help that would be awesome! Thanks for reading!