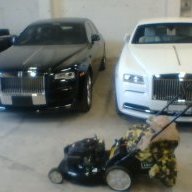 Platinum Contributor
Speedway Pass
User Power
Value/Post Ratio
160%
Nov 11, 2016
2,804
4,497
View: https://www.youtube.com/watch?v=Y6QTdvbu0uI
This is something I tried last night, meditation has been on my mind for a bit although haven't bothered to engaged with it much,
I met myself in the future.. Good old spare change was driving down the street, in a beautiful red Ferrari F430 Coupe with the beige interior.
After approaching myself (from the future) and saying hello whilst stressed out heading to work at my shit job that significantly underpays me, we had a short conversation.
Here we are talking to each other, what is the difference between us? Why is the other me driving the red Ferrari and I need to goto work when my days wage cant even fill the gas tank?
So I asked, hey what did you do differently?
Spare change in the Ferrari said.....
Me? Well for starters..... _______________________________________________
Fill in the blanks &
and add yourself to the conversation

This exercise could help you approach your situation differently, I believe most of the answers are within ourselves,
We are simply just overly distracted by our wandering minds & over thinking.
What can *YOU* do to improve?
Are you focusing on whats important?
Do you have
GOALS
& TIMELINES to achieve these
goals
?
What are some hiccups on the way that could occur?
Seeing into the future & having an overall
perspective
is something to have in mind, just a little bit of my spare change