.
FASTLANE INSIDER
Read Millionaire Fastlane
I've Read UNSCRIPTED
Speedway Pass
Reason for thread
I feel extremely compelled to come back to this community and give back to others since
@MJ DeMarco
helped open my eyes to the 'Fastlane'. I first read
TMF
in... 2015 or so (I believe) and have since read or listened to it 3 to 5 times.
Thread Focus
I want to ...
Share the process that led me here​

Share insights & realizations I gathered/made along the way.​

Answer any questions for others as a way to give back to the community.​
Let's get started...
How I got to this point (The Breadcrumb Trail)
I'm currently 29 years old. First read
TMF
in 2015 or so at 24 years of age, I was broke as a motherf*cker. Had no skills outside of sheer determination, and unbreakable confidence in myself (even though along the journey I felt completely worthless at points and was lost and had no clue wtf I was doing like many of you i'm sure).
I taught myself to code. I didn't understand a damn thing about it at first, didn't go to college and certainly didn't pick it up right away. Over time I fell in love with it. The ability to take a blank white computer screen and build anything I can think of... nothing short of amazing. I felt completely lost at points along the journey, was confused, had self-doubt, had imposter syndrome like a MF'er but eventually came through the other side.
Now I'm able to build anything across any platform and I'm still super young with plenty of ideas and entrepreneurial passions. I can build on the backend including architecting databases, server-side work (the back end makes the program do things). I can build on the front end (both web and mobile; what the user visually sees) and I can build and architect the APIs (the layer that connects the two) and I'm damn good at it too.
If you want to read more about this journey, you can read it in this GOLD thread I made sometime last year:
GOLD! How I got hired as a software engineer without a college degree
Now... to further bridge the story together I wrote another GOLD thread which talked about progress I'd been having up until that point with my financial journey which included some side hustle success and stock market success. You can read about that using the link below:
GOLD! First Fastlane Month, Feels Amazing! $65,000+ Revenue Pre-tax
-----
How I'm closing in on $1M liquid and what the heck I'm doing (WITH PROOF)
Ok, the part you're probably wanting to hear. Well this will be a slight teaser because I've been thinking for a few days on whether or not to write this thread and I decided it would be helpful, so I wanted to get a placeholder in here as a commitment to the community that'll force me to come back and finish the post.
I got here mostly on stock market gains over the past 3 months. The markets are down 20% ish or so. I'm currently up 400% +
I recognized a huge opportunity to deploy the capital I had gained from the gold post above, and I dove in. Also, my trading game has stepped up big-time as a result since I now have more capital to play with, my positions, patience and sizing allow me to soak up more gains than I was able to before.
When I go into a position, I aim for a $2,500 profit minimum before setting a stop loss on the profit side. So far it's been working out really well. As I become more successful with trading I'll probably end up increasing my 'ideal minimum' as a result of increasing my position size.
-----
Capitalizing on the crash.
About a year ago, I was firmly in the camp that we were due for a recession. It'd obviously been the longest bull market run in over 12+ years. So I was making smallish trades but also trying to stack cash on the side. Then Coronavirus happened and obviously the market took a shit.
I felt like a shark that was smelling blood in the waters, but I waited. SPY went from 340 to 300, and I waited. SPY went from 300 to 270, and I waited. It just didn't feel like the right time.
I visualize trends like I think of a coiled rubberband, it can only stretch so far before it bounces back.
At the 260 mark - I felt like the rubberband was getting coiled but not too strongly yet. So I waited. and then it happened. A sharp drop into the 220s, I honestly felt like this was it. I felt this was the bottom, or if not, it was damn near close enough.
This was the point where I could be ok going in and feel good about it, if it went down a bit more, I'd buy some more. I committed to not trip over dollars to pick up dimes.
I even called the bottom-ish publicly on StockTwits and got plenty of hate for it. But see the time and price stamps in the pic. Can't argue that. Oh and I definitely messaged the guy in the comments on taking that picture and trolled him.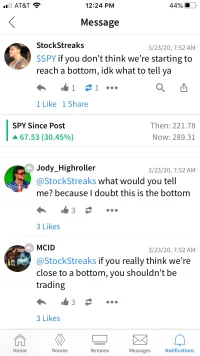 Now before I go on... I do not directly invest in the SPY - I used it as an overall market thermometer.
It was at this point I decided to start buying up stocks. I bought a few different names and held for about a month. The returns were huge. I basically went up 400 ish percent.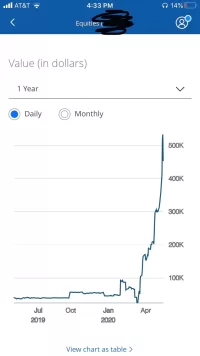 This feels great, but also very very weird. I'll touch on that below in realizations section.
This is my JPM account - I typically trade shares or stock warrants from here. and I have a Robinhood account where I trade options. I use robinhood because I love their UX. Super easy and clean. (being a software engineer this means something to me).
Here's an example of a huge return I had on DKNG (Draftkings). You can clearly see the total return and ROI % in the pic.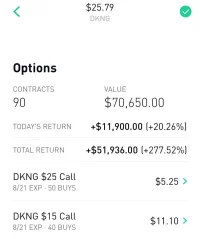 Value when sold was about $70k, on an investment of about $19k for a +277% return on this trade.
I was in this trade before they officially completed their reverse merger with a SPAC (special purpose acquisition company). Wish I bought more options at the time, but I didn't have the capital, it was tied up in other trades that were playing out.
That about sums up the huge moves, I have another trade in the works that might also return me 300%+ by mid June. It's currently up 100% and there are some catalysts coming that will run it up. Also a SPAC reverse merger.
Officially, I'm around 650k ish and closing in on my first $1m fast. I'm going to request a thread title change once I officially get there, to better reflect the story.
----
My Trading Strategy Going Forward
I'm no dummy. I'm mostly cash right now, except for that larger position I mentioned above I'm waiting to play out. The markets are far too uneasy for me to feel confident in any real long term plays.
I saw the bounce coming, but I'm not stupid enough to act like I know everything and I'm certainly not letting the success get to my head and fool me into thinking I know what will happen next.
That being said....
My current strategy is super super simple. I want to get in a position that I'm comfortable with and my minimum profit target is $2,500 before I put on a stop loss. I have my reason for this particular target, if anyone is curious, feel free to ask.
It's been working well. In the last month, I've put on around 8 trades that have returned me $2,500+. I'm actually 8 for 8 using my new strategy and I feel like it's an edge I have to be able to manage my patience.
Here's 2 examples of trades with the $2,500 return:
This one was a quick BTC scalp. It hit my $2,500 goal so I sold. Even as a software engineer, I believe in BTC, but I'm unsure about it's practical long-term adoption and have my reasons.
Then there was this purchase of PINS (Pinterest) and this perfectly defines my strategy in which I'm 8 for 8.
This is the buy of 5k shares.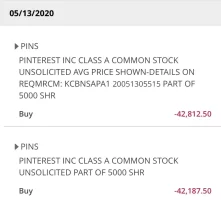 Came out to $85k buy order. I held for 2 days and put a stop loss on as soon as it passed my $2,500 target. Here's the sell: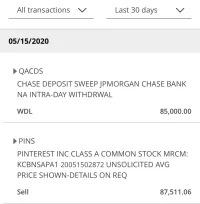 My overall strategy boils down to - I'm looking for .25 cent to 1.00 swings in well known stocks where I can afford enough shares to return $2,500 minimum and have room to average down should I need to. This is my strategy, I'm sure people can try poking holes in it, and I'm honestly open to your criticisms of it, the debate on the strategy will help me solidify my concept.
So far being 8 for 8 it's working rather well.
That's the progress and strategy in a nutshell.
10 Realizations
I can probably quit my job now... Though I haven't yet. Someone talk me into it. haha.
The more capital you have to deploy in the markets the more profit you can soak up.
A good trade is like fishing into a school of fish with a large net. The fish = profit, the right timing is the size of your net.
At a certain capital level - you can pay your monthly bills in 1 good trade. So why would I ever risk quick tiny scalps and stare at the screen all day. Maybe I'd only need to make 1-3 trades in a given month, instead of people who put on 20 trades in a day. To each their own though.
I believe the number one failure beginning trades make is not starting with enough capital and like everything else, trying to get rich quick. Screw that, focus on getting rich for sure.
If you're trading options, I recommend not trading 'weeklies' or even 'monthlies' it's mostly gambling. If you believe in a position moving your way, it's much smarter to pay the extra for extra theta (time). Theta burn is a motherfcker. Multiply that with trying to get rich quick and you'll be broke in no time.
There is no secret to success in the markets. It's mostly capital and patience. Most people don't have much of either, so they screw themselves.
The market giveth and the market taketh, do not get cocky, just aim for consistency. Have a plan and stick to the plan. Right now I aim to make $2,500 per trade I put on. Eventually with consistency and time of building my capital I'll up that to $5,000. Then I'll stay at that level for a while, before upping the target again. Remember, it's only a net and fishing.
I think paper trading is a shit way to learn to trade. Yes, it'll teach you how to use the tool/platform you're trading with, but outside of that, you need to risk real dollars to understand the weight of what you're doing. Otherwise it's all fairy dust.
I currently have probably 10 years of runway to pay my bills if I stopped working now and just did my own thing. When I write these words, I question why I haven't quit my job, I think it has something to do with being broke my whole life. Working through it, open for conversing on it - I think it's because I have a fairly easy job. But that's also a dumb reason. Go figure....
What's Next...
Well... I love the markets and I'm a software engineer. I'm likely going to keep on trading and building a StockTwits like platform with better features and performance because their platform drives me nuts. It's lacking alot of things. I have the ability to build it for both web and mobile and can really do it on my own time and terms.
So that's what it will be. Trading and building a StockTwits competitor.
That's it, thanks for reading, I hope something I wrote helped you learn something or inspired you in some way. I'm happy to answer questions and will be around monitoring the thread as questions pop up. So ask away!
There are no stupid questions. There are only questions that are repetitive that might have already been answered by the time you get to this. Check those first
Don't like ads? Remove them while supporting the forum. Subscribe.
Last edited: