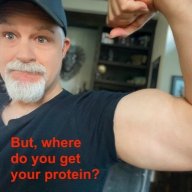 I followed the science; all I found was money.
Staff member
FASTLANE INSIDER
EPIC CONTRIBUTOR
Read Rat-Race Escape!
Read Fastlane!
Read Unscripted!
Summit Attendee
Speedway Pass
Jul 23, 2007
35,336
140,321
This story reminds me of Krispy Kreme years ago. I remember getting into a flame war on a stock forum years ago when KKD was in the 40's -- I proclaimed that the stock and the company was a fad, and soon the stock would plummet. The KKD Kool-Aid drinkers were quick to lambash and cast me as a fool -- "Krispy Kreme is an awesome stock" the lemmings touted.

I bought put options on KKD and profited a nice tidy sum in the months that followed. KKD is now a 6 dollar stock that only can reminisce about the glory days.

Now, I see CROX setting up in a similar type position.

Is the fad over and will the stock soon follow?

Time to short and/or buy put options?