Legendary Contributor
EPIC CONTRIBUTOR
Read Millionaire Fastlane
I've Read UNSCRIPTED
Summit Attendee
Speedway Pass
May 27, 2013
3,212
14,276
2,804
To run a great business, you need to be a great leader.
And part of being a great leader, is having the ability to foresee and prepare your company for the future.
Your employees and their families are depending on your ability to do so.
It's easy to think your Nostadomus when everything is going great, and the growth chart is up and to the right.
Everyone's a genius in a bull market
... as they say.
But when crisis comes out of nowhere and leaves a giant bag of shit on your doorstep, and then lights it on fire... you learn what your true abilities are.
And my abilities were the equivalent of stomping on the bag.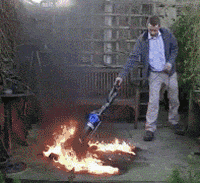 Second-Order Effects -
How asking "Ok, what's next?" will allow you to prevent a chaotic situation from getting worse.
March was a desperate time for my business.
My business is in the bicycle vertical which is very spring/summer seasonal, and we only made it through the bleak sales-less winter by the skin of our teeth.
My mom even paid for payroll one week. Thanks mom!
But it was all good because March sales were going to save us.
NOPE
Covid changed all that. San Francisco shut down. Everyone shut down. The country went on hold.
No sales. No phone calls. No emails. And one week of expenses in the bank.
My response: go full hedgehog, stop all outbound payments, prepare employees for furloughs, cut the sales forecast for the rest of the year by 60%, and bend over and prepare for what's coming my way.
But if I had asked "Ok, what's next?", I may have predicted what was about to happen.
So, here were the facts:
Everyone is stuck at home.
Nothing to do, everything closed.
Can't go to the gym, need exercise.
Don't want to get on a bus or a train
School's closed and kids are bouncing off the f***ing walls
Stimulus checks hitting everyone's bank accounts.
Ok, what's next? hmmm.... how about
THE BIGGEST BICYCLE BOOM IN THE HISTORY OF MAN
Ok, admittedly, this was a big leap that even the titans in the industry were completely blindsided by.
But did I learn my lesson? No. Instead, I reveled in the relief of weeks of glorious sales... breaking daily records. And then breaking them again. and again.
Pop the champagne baby, we just turned the corner, and we're making it rain.
When sales exploded, I only saw the first-order, immediate effect. i.e.
We're not out of business anymore, yay!
Had I asked "Ok, what's next?", I would've seen:
Increasing scarcity of bikes creating a toilet-paper frenzy of consumer demand for anything on 2-wheels
Factories getting completely overwhelmed with new orders from around the world
Distributors running out of all spare parts and accessories. (There was a month where no bike shop in the country had a spare tube to fix a flat)
The 2 weeks it took me to realize that the above was happening, and get my next order in, cost me 2 months of being out of stock.
I had to painfully sit on the sidelines, during peak season, while the entire world saddled up and got riding on anything they could find.
But that wasn't the end of my lack of foresight...
Yes, we were out of stock, but it ended up being all good, because people were cool to buy bikes and wait 8-10 weeks for delivery. So cash kept coming in.
And then I got the itch... Time to bring on a couple new salaried hires to help us prepare for a boomin' 2021! And no big deal, I'll just adjust the forecast to place my factory orders a couple of months earlier than normal. Great, that's taken care of, let's do this!
Here's what should have been going through my head:
Ok, what's next...
Every manufacturer in the world is going to try and put in their spring factory orders 2 months early
Ok what's next....
A surge of backups that exponentially increase lead-times not by 2 months, but by 6-8 months (I'm lucky, there are bike factories right now with a 14 month lead time...)
Ok what's next....
There is going to be a lot of cash required, in a very short amount of time, for anyone who wants to sell a bike before 2022.
And that last realization is what finally hit me upside the head this month. In a span of 3 weeks, the delivery date for new orders went from February to June.
Had I considered Second-Order Effects, I would have had a few months to prepare and find money... loans, investors, lines of credit.
Instead, I had 3 days to find enough money to immediately finance 2 shipments of inventory, and had a matter of weeks to find money to finance the rest of 2021's inventory.
When you're always reacting to the situation in front of you... you're never in control.
Plan for the future and think through scenarios.
Take time out of your week to just think and ask... "What's next?"
Don't like ads? Remove them while supporting the forum. Subscribe.
Last edited: