You're a Ferrari.
But the handbrake is on..
Health and fitness is a relatively easy and simple thing to achieve, yet 90% of us don't have it.
Why?
It gets overcomplicated, we try adding stuff instead of removing, we listen to everyone's advice…
This is applicable to many things in life… but only a few things really matter.
I'm going to assume you're a 25-50 year old businessman who wants the maximum results (quality of life, cognitive optimisation and a great body) in as little time and energy investment as possible.
For a bunch of reasons health and fitness is made more complicated than it ever needed to be.
When you master this part of your life, it compounds your results across the board (mental clarity = money, energy = money, leisure, family time, better mood etc.)
I've spent 10 years being a nerd obsessed about this topic because it has transformed my life so radically. Below is what I've learned.
Verifying fitness nerd status: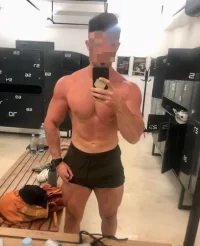 In this post I am going to attempt to cut the fluff and deliver the hard hitting stuff. It may seem simple and boring… but do you want results, or do you want to be complicated and fancy moving the needle 0.4%?
I'm going to leave a lot out, in an attempt to simplify and focus on results.
I am not a medical professional, I have no formal training, I am not a coach, just a health and fitness nerd who is a decade deep.
Ok.
Let's focus on the hard hitters.
Master this shit, and you WILL get 98% of the way there. People want to sell you fluff and confusion, don't let them, there is no magic, there are no secrets.
Diet
:
(disclaimer: do what the **** you want to do)
Most humans thrive on both plants foods and animal foods (shocker). However, there is a 'spectrum'.
I have no horse in the race, I have vegan friends thriving, and I have carnivore friends thriving.
Some go carnivore and cure lifelong ailments, some go vegan and the very same thing happens.
We are all individuals. There is no ONE optimal diet for everyone, like I said it's a spectrum.
You likely have a good intuition of where on the spectrum you do best…
This isn't scientifically correct, but its helpful to imagine a spectrum of 'carbohydrate tolerance'. Both genetics and lifestyle play a role but this is a useful framework to use.
Pull someone from the nordics (genetically speaking) and put them on a diet of grains and tropical fruits and see what happens…
A lot of us a genetically predisposed to poor 'carbohydrate management'. It's why you see some people eat like shit and look great, and others pile on weight just looking at a cookie.
If you feel tired and fatigued after your meal. You spiked your insulin too high (reduce carbohydrate intake - find your sweet spot) or ate something your body didn't like. You will be rewarded with inflammation (feeling sluggish, slow, tired, achey, puffy, bloated). It is not normal to feel like you need to take a nap after eating.
Again, our focus here is:
Energy
Focus
Clarity
Stable moods
How do we do this - what
really
moves the needle?
Stable blood sugars
Avoiding sugars, high glycemic foods.
Focus on whole foods. Cut the processed garbage (these frankenfoods aren't real food, your brain is being fooled.)
Learn your 'carbohydrate tolerance'
Intermittent fasting - if desired.
Ridding inflammation (VERY IMPORTANT)
Inflammation?..
Ever wake up devastatingly tired after a nights sleep? You look puffy, joints ache, muscle pain, maybe some gut discomfort? Your body is inflamed (and so is your brain). You are operating on 50% of your capacity, at best… What are the consequences for your work/business ($$$$$)?
We all want the quick fix.
I wish we could eat complete shit, take tumeric pills or some vitamin C and all would be well and dandy. This will barely move the needle 1%. Fix the root cause, it's the only way. Crush the inflammation for good and you will feel like a new man with a renewed energy, focus, drive and vigour for life. Not to mention avoiding massive health problems down the line. There are no shortcuts here folks.
What are the most important things in avoiding inflammation?
Avoid added sugars, processed foods, seed oils.
Keeping stable blood sugars
Fasting as much as you find tolerable.
Not eating foods you react badly to. (this could be eggs, gluten, dairy, nuts, broccoli, it could be ANYTHING, you have to monitor how you feel and really learn your body's response to inputs. A HRV device such as an oura ring, or whoop band will help a ton in monitoring how stressed your body is and whether you are fuelling yourself well.)
Extra things that might help you in the process…
Choose the whole foods you enjoy and base your whole diet around those. Do not punish yourself with shit you don't want to eat. It will never stick.
Leverage high protein (1g/lb of GOAL weight) - its highly satiating, isn't easily stored as fat, and helps with stabilise your blood sugars for the whole day.
Adherence - we are focused on setting up the best case scenario that we can STICK to. Rice, chicken, broccoli for 4 weeks followed by bingeing is not a recipe for success… you love bacon? Great, eat a bunch. Is it 'optimal'? Probably not, but adherence > optimal for your long term success.
Exercise
:
Again, let's assume you're a business pro who wants the maximum 'returns' in the least amount of time.
We are aiming for maximum results (better QoL) with as little fatigue and impact on joints, allowing other areas of our lives that we care most about to thrive (energy for making $$$$$!)
What should you aim for? This will get 95% of there (weekly):
3x20-40 min cardio sessions (jog, bike, swim, whatever you like - adherence)
2x40-60 min lifting session.
There is SO MUCH FLUFF in lifting. This cannot be understated. 95% of the people in the gym are wasting their time when it comes to 'results generating activities'.
You can get a full chest workout with 3 sets (one exercise). But you see people doing 5 different exercises for 3 sets each. 15 total sets for chest when the same (generally speaking) results could've been had with 3 sets (with 20% of the CNS fatigue!).
80/20 lifting routine:
Full Body A:
Shoulder Press 3 sets (8-10 reps) (machine > smith > DB > BB)
Lat pulldown / pullups 3 sets (8-10 reps)
Trap bar deadlift 2 sets (6-8 reps)
Reverse Chest Fly OR Bent over fly 3 sets (10-15 reps)
Cable rope push downs 3 sets (10-12 reps)
Full Body B:
Incline chest press 3 sets (8-12 reps) (machine > smith > DB > BB)
DB Lateral side raises 3 sets (8-12 reps)
Back Cable Row 3 sets (8-12 reps) (Cable > machine > BB)
Leg Press 3 sets (8-12 reps)
Bicep Curl 3 sets (8-12 reps)
Pick a weight you can do for the lower end of the rep range e.g. 8 in 8-12.
Keep using that weight until you can do the higher end of the range (12).
Move up weight. Repeat.
THAT'S IT.
Sleep:
Sleep is foundational. If you don't respect your sleep you're putting sunflower oil in your Ferrari.
I've read everything on sleep I can get my hands on. Below are my notes on getting the best sleep that you can…
Get out in natural sunlight (5 mins if sunny, 10 if overcast) in the morning 0-3 hours after sunrise/waking. This sets circadian rhythm. (Very important)
Last calorie at least 3 hours before bedtime. Body needs to be cool for optimal sleep, digesting food impairs this. Digestion is an expensive process for the body. If it's focused on digestion, sleep WILL be sub optimal. Try it.
Off screens 1-2 hours before bed if possible. At the very least use the 'night time' settings on your devices (flux, nightshift etc). Blue blockers can be useful here too if you are exposing yourself to light. When your eyes see bright light/blue light it impairs melatonin production, because your brain still thinks its day time - meaning a very hard time getting to sleep.
Avoid bright lights/LEDs after sunset.
Sleep and wake at the same time everyday (consistent bedtime routine & schedule). Yes, even weekends. Otherwise, you are self inducing jet lag.
If you need extra sleep go to bed earlier don't wake up later.
Alternatively…
A sub 30 min nap around 12-3pm is an incredible 'recharge'. Be careful not to exceed 30 mins as body will go into deeper sleep and wake up groggy. Don't worry about falling asleep right away. Laying down and letting your mind wander for this time still has significant restorative effects.
Sleep in cycles of 90 mins (and add how long it usually takes you to fall asleep) e.g. 7:30hrs, 9:00hrs.
(sleepti.me - to calculate this)
Last caffeinated drink at 1pm (a quarter dose of caffeine is still in your system after 12 hours. (Eg 2 coffees in the morning is the equivalent to drinking half a cup of coffee right before bed. (I sleep 10x better with no caffeine even when only having 1x coffee @ 8am.)
Sleep with as dark a room as possible, invest in black out blinds/curtains (cover LEDS w/ black tape)
Sleep with ear plugs (no noise) or a white noise machine can mimic silence too (makes it so your brain doesn't notice sudden noises during the night).
60-65 degrees F (16-18 C) sleep temp is optimal.
Fresh air is good if possible (crack a window).
Only use bed for sleep and sex.
Weed and alcohol in any amounts (yes, even one glass of dry red). WILL inhibit REM and deep stages significantly. Less is always better. Zero is best.
If you sleep with anyone else. Consider using 2 separate duvets (you'll never go back!)
Consider buying a sleep tracker: fitbit, oura, whoop are good… apple watches, and garmins suck a$$ (poor accuracy).
Bonus
:
Fasting
:
A lot of people, myself included, feel amazing fasted. Humans have never eaten 3+ meals a day, its a very recent thing. This could be a whole other post in itself but there are substantial benefits to intermittent fasting/fasting I'm sure many of you are already familiar with.
Broadly speaking, when you fast you switch on 1000s of 'clean up' mechanisms that clears out all the garbage and leaves you crystal clear. Think 'system defrag'.
It's an easy way to calorie control as well. First meal at 12. Dinner at 6-8pm, its a lot harder to overeat, all that sweet morning productivity too! Way easier than it sounds. First few days can be tough. Your body's hunger hormones are trained to expect food when you normally eat. Once it learns, you'll be cruising.
Get your hormones checked (especially the 40+ crowd):
Are you experiencing?...
Mental fog/lack of focus
Lack of energy
Decreased work performance
Decrease in sex drive
Decrease in strength or endurance
Decreased 'enjoyment of life'
Noticable change in behaviour
The modern environment is assaulting our endocrine systems. From micro plastics to herbicides to modern tech. It's a miracle we still function. The 'normal range' for our sex hormones has been creeping down... Extreme cases go through years of misdiagnosis until they get their hormones checked. What's worse, you can go to a 'professional' with test levels of 350ng/dl and they will tell you everything is perfectly fine (you're in range!). It's a tragedy that millions needlessly suffer. Get your hormones checked fellas. Happy to read blood work if you want a second opinion (I am a nerd, not a doctor, I have no qualifications).
Healthy Junk:
Sometimes we make bad choices, whatever. That's fine. Although something I find useful is making healthy junk food choices…
Let me explain.
There are countless healthier junk food alternatives on the market now that scratch the itch without demolishing the whole tub of 1500 calorie ben and jerrys. Plan for the itch, have halo top (300 calories per tub) in the freezer instead of B&Js. There are alternatives for most of your favourite treats, cookies, ice cream, whatever, have them ready!
Simple changes like this can save you 1000s of calories per week, which could be the difference between gaining 12lbs in a year or losing 12lbs.
Supplements (I've tried it all, scoured the data, mostly BS unless you're deficient) Here's what stands:
Creatine Monohydrate - 5g daily (cheapest shit you can find is fine.)
Omega 3s - 1g EPA is good, 2g is 'optimal'. (If you don't eat salmon/sardines at least 2x/week) (high quality is important, check labdoor, nordic naturals brand is the premium option)
Vit D3 - 5-10kiu
Magnesium - 300-500mg (any form, not oxide)
Actionable takeaways.
Prioritise your sleep.
Get outside every morning to set your circadian rhythm (5 mins is fine, yes, works even if it isn't sunny)
Exercise with intent. (maximum output, minimum input)
Try pushing your first meal to 11am+. (Coffee, teas are fine)
Avoid sugars, processed foods, seed oils.
Focus on keeping blood sugars stable, focus on whole foods. Focus on 1g/lb of protein for your goal weight.
Whatever you will stick to is the best choice.
Try it for 14 days. You can always go back.
AMA if ya want. Happy to help.
Last edited: