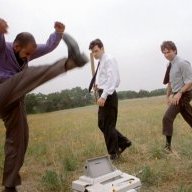 Freedom
Read Fastlane!
Read Unscripted!
I have been wanting to start a Progress thread for a while. MJ's recent post lit a fire under me.

MY CURRENT SITUATION:
-Full time employee(ugh) working as a SW developer for 6 years now.
-Family man with small kids (very little time to work on escaping the 9-5 grind, 1-2 hours night + several hours on the weekends)
-Buried in student loan debt $42K
-Absolutely obsessed with escaping 9-5 life in exchange for a more favorable life, I am missing out on 75-80% of my kids lives being at work. I refuse to accept this.
-I haven't watched a movie in about a year, and haven't watched tv or played video games in several years as a temporary sacrifice to gain more time. There is so little time now...

WHAT I'VE TRIED BEFORE
-MLM - Market America (way back in my late teens, lost so much money)
-Hustle arbitrage (craigslist, furniture, appliances) - Made little money, traded a lot of time for little money
-All natural Deodorant product- Failed, my ingredients didn't keep my friends from smelling, the product melted and the ingredients separated.
-Affiliate marketing- nada
-Drone video services - got the drone, got the business cards, made the website, not a single customer. - Failed at sales I suppose
-Online app that automated creation of youtube videos and uploaded them for monetization. (terrible idea, failed)

WHAT I AM DOING TO ADD VALUE NOW
I am currently working on building a freelance web development business. (I know, still trading time for money, and I had this concern but MJ personally said to me in one of his posts to not worry about the time commandment right now at this stage...)
I provide technical solutions for small businesses, helping them with their website creation, social media integration, marketing their business on social media platforms, high def photography/videography, content creation. I want to be their one-stop shop for all of that.

Right now my full time job is working on low level software stuff that is not related to web technologies, I am working on "back-end" stuff controlling hardware using C++ and Python.
So, I had to come to terms with the fact that what I am doing at work, what I already know, is probably not a good path towards starting my own business in my spare time. These skills are more suited for working for large companies. So I have been learning the web stack now, HTML, CSS, JS, PHP....

WHAT I HAVE ACCOMPLISHED SO FAR
-Finished online courses teaching the web stack (HTML, CSS, JS, PHP) from a great class and instructor(if you want to know which one send me a message)

-Created a website for a local barber, Jeff the Master Barber, helped him set up his affiliate links and created a website for him for free, (it has since expired), I also helped him with his youtube channel, the naming of posts and coaching him. When I started with him almost 2 years ago, he had about 6K following now he has about 70K. (Mostly his credit, he puts out so much content, but I can say I helped at least...)

- Created a nice Wordpress website for my father in law, an artist ( website has expired now)

-Reached out to a friend of a friend, owner of a local law firm, convinced her to agree to a re-design of her website for free. I worked on it tirelessly for 3 months in my spare time thinking this was going to be my big break into the freelance world. She stopped responding to my emails after a few months of me requesting her input on design decisions and asking her for content like copy writing and pictures. (Soul-crushing) I came to the realization she probably doesn't trust me with her companies site yet, due to my inexperience likely. But never got a response out of her, ghosted me, until...

-Some time later she reached out to me asking me to do another website for her, a small construction company she is investing in. This time paid! We agreed to 1500 for a simple 4 page site. I did the first draft, got the check for 1/3 of the price, $500, still waiting for content months later... (demoralizing)

-I have been speaking with a few other small businesses about doing work for them, a bunch of interest but nothing solid yet...I am not sure how to get more clients yet so I bought a course teaching me how to do so...

---

I am working on my social skills and sales by listening to Grant Cardone and RSD Owen, going to attend RSD event soon, listening to audio books everywhere I go, no music, very rarely, I don't drink and smoke on weekends like I used to, it was killing my ambition. I don't watch tv ever, or sports, no video games. I am trying to be more efficient with my time, using Trello boards for my work projects.
On the technical side I am taking online courses learning PHP backend code because that is where I heard the freelance money is.

Anyone out there see any flaws in my reasoning or what I am focusing on? If you read this much thank you for your time.
Last edited: