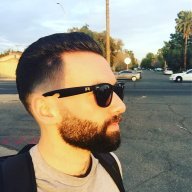 Dare to differ.
FASTLANE INSIDER
Read Fastlane!
Read Unscripted!
Summit Attendee
Speedway Pass
Today is my 1-year anniversary on this forum.
I wish I had an inspirational story to share about how I quit my job and am making X figures a month with my awesome new business.
But I don't.
I'm making $0 from any business and am still getting that good 'ol safe 9-5 paycheck.
But one thing is for sure, my life, my future, will
never
be the same again. This year has been the most
unique
year in my life, thanks to
TMF
,
@MJ DeMarco
, and TFF. Attending the 2018 Summit was fantastic, even without a business idea. The friends I made there continue to inspire me to this day.
Soon, I will have something to show them
So what have I learned in this year?
Our MINDS are POWERFUL as F***.
And are mostly out of our control.
After a family health issue, plus my longing (but inaction) for success, all following four years of thinking myself into depression because of a girl, I found myself in a very unfriendly chemical concoction of depression, stress, anxiety, and more.
This forum and friends in it have kept me going. Not to mention the countless self-help-yada-yada books. The Fastlane way of life is my new vehicle for making a difference in this world. Any obstacle be it physical or mental will be overcome. And damn the mental ones are tricky, sneaky little bastards.
But we must fail. And if we must succeed in our minds before succeeding in reality, then its possible to fail in our minds before ever trying in reality. I've checked this box many, many times with my long list of un-executed ideas.
They're only stairs, however. Each failure is a simple step towards my goal...though I can't see the top. Who knows how many stairs there are?
Just...keep...stepping.
It's part of the joy of the journey