Legendary Contributor
EPIC CONTRIBUTOR
Read Fastlane!
Read Unscripted!
Summit Attendee
Speedway Pass
I was going to post this in response to a specific thread but thought other new members might get some mileage out of it so I have expanded upon it and put it out in the open.
What promoted this post was a new member asking these questions within a thread:
"Really how can I find a product worth selling?"

"But how will I know if an idea is worth pursuing?"

"Do you have any advice on how to do good product research to validate a product and determine whether it's worth selling?"

"How do I find a product to sell?"
The intention is not to single this person out (or anyone else who has asked these and similar questions) as they are not alone by far. It just seems that some come here after reading one or both of MJ's books with the expectation of being spoon fed the answers to these and similar questions.
On the surface this sounds totally OK and sensible but if we just simply answer your basic questions we are fostering the wrong mental attitude for successful entrepreneurship and getting you off to a bad start.
You can be sure that, unless it is pretty exotic, the answers to every question you have is already within the pages of this forum. Pretty much every early stage question you have has already been debated here multiple times by multiple people from multiple backgrounds in multiple ways, and from multiple angles.
The members patiently responding to a basic question like
"How do I find a product to sell?"
are helping because you are new, but instead of holding your hand they should be telling you that you have the wrong mindset.
If you are asking a question like this then my friends here (although with all the kindness and best intentions in the world) will be doing you a great disservice in answering if for you. You need some tough love.
You came here presumably to get out of the Slowlane. To carve out your own path. Create your own future. Be your own boss and live life on your own terms. Being an entrepreneur is about standing on your own two feet. Learning. Figuring things out. Growing. Asking for help when you really need it. By its very nature it means you can't be reliant on others to do all the lifting for you. You need to build resilience and self-reliance. This comes with time but you have to start somewhere and here is the perfect opportunity.
You need to learn that success isn't about what you need. It's about DISCOVERING what others need. Then acting upon that discovery. By spoon feeding you we are inhibiting your ability to learn, discover and then act when the time comes.
So you see it is totally unproductive to spoon feed you information when it is already here and all you need do is search for it. You will learn a whole lot more by diving in to thread after thread. Light bulbs will go off, moments of enlightenment, flashes of inspiration, subjects for contemplation. Your mind will expand exponentially.
A whole university of entrepreneurship is right before your eyes so do yourself a favour, don't ask someone to go find the book, open the page, highlight the paragraph and stick it under your nose for you. You will never expanding your knowledge that way. This will just stifle your growth.
Take some time and immerse yourself here. Do it with a totally open mind. Don't start out with a 'what product should I sell?' mentality. That is creating a closed mindset and tunnel vision. Don't commit yourself to any particular road until you have fully explored the map.
You might already have a great idea for a business and are excited to make a start. Wonderful, but don't rush in. Look for people who have already travelled similar paths. Read about their trials and tribulations. Get some insights into how they developed their businesses, their stumbling blocks and dead ends. It is so much easier to follow a path someone has already created than to have to cut a fresh one from scratch.
This forum will not only help you avoid going down the wrong path but will also save you a fortune in both time and money (and believe me time is so much more valuable than money). So don't act in haste in order to repent in leisure. But don't take that as a free ticket for inactivity either. You will learn a wealth of information from these pages but that just readies you for learning a wealth of information that you will only discover once you take action.
At a risk of further spoon feeding, you could do a lot worse than start here:
NOTABLE! - Chasing a Cat vs Attracting a Cat, a Breakthrough Story
Or go here
The Fastlane Entrepreneur Forum
/ and click on the Must Read threads (they are called that for a reason).
Have a burning question you would like the answer to?
There are two ways to search this forum for previous answers. This way which you will find at the top right of every page: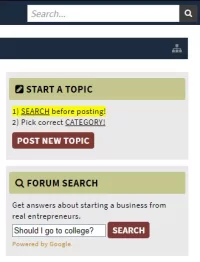 Or directly through Google which often gives more results as the site search tends to be a little 'finicky' shall we say. So to search directly via Google copy and paste the following into the big G replacing the question marks with your query:
site:thefastlaneforum.com ????????????????
Looking forward to following your journeys and learning from your insights.
Last edited: