A few months ago I purchased a 1/2 duplex in the Edmonton area, and it is now rented and cash-flowing every month. This is my first experience with anything remotely fastlane, and having someone else pay down a mortgage for me every month regardless of whether I am studying, working, or on vacation, is pretty damn cool!
At a few points I almost dropped the idea of pursuing real estate because I heard a great deal of stories of people getting burned in Canadian property investing, so I wanted to share my experience for anyone who is considering taking the plunge, because it is absolutely doable, lots of fun, and a great learning experience.
Here's a pic of the place -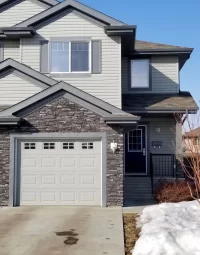 Tip 1 - Read these!
-"More than Cashflow" by Julie Broad - this it the most realistic and thorough book I have found on Canadian real estate investing. Excellent resource, but almost deterred me from investing because it hits hard on every possible thing that can go wrong - my actual experience has been much more positive than that of the book.
-"Secrets of the Canadian Real Estate Cycle" by Don R Campbell - this book is excellent for figuring out where to invest to maximize potential for appreciation. Here's a link to the market analysis I did for the current area I am investing in, based on the principles of the book -
Alberta real estate in a slump? (Market analysis included)
Tip 2 - Excel is your friend
-Having a realistic view of the numbers behind every property is paramount. I have attached the spreadsheet I created, including the actual numbers for the above property I own (these are not theoretical - these numbers are literally what I am receiving/paying) - note the cashflow is relatively low, but this is after conservative numbers accounting for vacancy and maintenance - the primary money you will earn on residential real estate in Canada is through mortgage pay-down (for sure) and appreciation (hopefully!).
Tip 3 - Use free local resources
-http://myreinspace.com/ - this forum is the bible for Canadian real estate investing, you do not have to be a member to access loads of great content on the public forums. I also found my property manager, lawyer, and mortgage broker off of recommendations made on the public forums.
Tip 4 - Don't worry if you feel like you don't know what you're doing
-Most single family investors (in my area anyways) are novices that generally do not know what they are doing. This was encouraging for me, as I am 25 and had never purchased or leased a property prior to this investment property. Know that if you have taken the steps to read up beforehand, have some idea of what a process even is, and put in a decent amount of effort, you will already be miles ahead of most residential real estate investors. Over half of the properties in my area are marketed with blurry sideways cell phone pictures with awful lighting and no descriptions, often at rates that are completely unrealistic.
Tip 5 - Know what your property will ACTUALLY rent for
-This step is usually the one that causes the most grief for residential real estate investors. If you look on kijiji or similar websites you will see what people want to rent their properties for in a given area. This can be misleading, because people will often try and rent their property for far more than it is worth, for example:

This property has been listed on the website rentfaster.ca for upwards of 6 months, because no one will pay that much for that property. This is why you must be very careful, because if you have a property similar to this one, you can't expect it will rent for $1950, or whatever else people are advertising.
So how do you know what your property will rent for? A much better way is to create a search on rentfaster for properties similar to the one you are considering buying, in your given area (ie 3 bedroom, 2 bathroom, 1/2 duplexes in your area), and then check it every few days. Rentfaster.ca has an excellent feature that allows you to see what properties actually rented for for a few days, before taking the listing down. Keeping track of rental rates this way for a month or so in your target area will give you a much better idea of what your property will go for. For example, the following property ACTUALLY rented for $1950.
I hope some of these tips will be helpful for anyone considering getting into real estate, and feel free to ask me anything because there's a huge amount I haven't covered!