I outlined this in another thread but I would like to make a separate thread on this.
So for this first post I am looking at Ireland
...
To start with I need to share the personal income tax rates:
So as a single person paying yourself 6k a month (72k a year) from your business...
- the first 34,550 euros is taxed at 20% = 6,910 euros tax
- the remaining 37,450 euros is taxed at 40% = 14,580
So $21,890 euros tax on 72,000 personal income.
And there are other taxes add in there also.
(And I am going to guess this goes up in October when the yearly budget comes out)
----
Why this is an issue is the central bank of Ireland limits property loans to 3.5 personal income.
So your 72k a year income, which is actually
50,110
after tax, gets you around 175,000 euros of a property loan. (50k x 3.5 limit)
----
So with 175,000 loan as a max figure what can you get...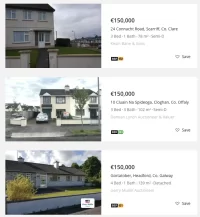 Something like this would be what you are looking for - a 3/4 bedroom house that rents for 1000-1100 a month most likely. At the best you could maybe pick one up for 100-120k that rents for 1000-1100.
(Other rental options...
- If you did short term rent in a high volume area you could do better but good luck buying at 175,000.
- Also one other approach is you could rent separate rooms but then you need again to be in much more in demand area like a major city centre for example)
So for a budget of 175k you are limited to more normal properties that rent long term.
If you wanted to buy higher than that you are going to have to pay for it with a LOT of tax upfront.
---
So to run some figures here:
- You buy at 150,000
- Since it is your first house its a 10% deposit ( anything else is 30% down)
- Loan is now 135,000
- Ill round the mortgage up to 600 a month...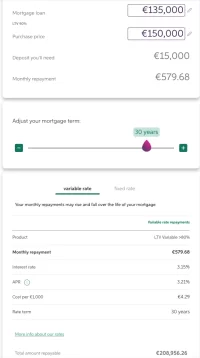 So after your loan you have 500 euros a month left to cover the cost of everything else.
There are a lot of other expenses of course but to keep it simple lets just say they are 350 euros a month.
So to sum that up:
Your monthly rental income per month is 1,100 euros
Your expenses are 600 loan and 350 other = 950
Cashflow = 150/m or 1,800 a year.
Also the loan pay down each year would be 600 x 12 = 7200.
So *maybe* a total of 9k a year being stacked up in wealth each year.
(I am being generous with low expenses and no issues)
---
Now lets say you wanted to buy 5 of these...
After the first buy its a 30% deposit with the same figures.
So 45k each time (plus fees to buy), let's say thats 50k.
- So if you paid yourself 6k a month from your business...
- Your left with 4k each month
- If you spent nothing you can buy 1 each year maybe
Fast forward 5 years...
- You have 5 rental properties
- On paper they are worth 750k
- You spent 195k in deposits to buy them
- You also paid 120k in tax to buy them in your personal name
Thats a total cost of 315k euros for:
- A monthly cash flow of 750 euros or 9,000 a year
- And a loan pay down of 3k a month or 36k a year
(assuming zero issues ha)
Note:
Why I have left out the BRRR method is it doesn't really work in Ireland.
You can't quickly add value and refinance your house like its done in the US.
You can only really take out what costs you directly put in which means you have to sell to show the extra value added.
----
Id love someone experience with property to tell me their thoughts but to me it just doesn't seem worth it.
I also have left out Irelands very risk landlord laws and other risks - but these are for sure a factor too.
I think to the states this is going to seek like a horrible ROI but let me know what you think.