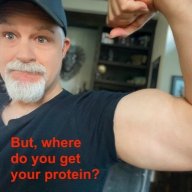 I followed the science; all I found was money.
Staff member
FASTLANE INSIDER
EPIC CONTRIBUTOR
Read Rat-Race Escape!
Read Fastlane!
Read Unscripted!
Summit Attendee
Speedway Pass
User Power
Value/Post Ratio
439%
Jul 23, 2007
37,024
162,354
I want to believe this story is fake.
I just can't believe people can be this stupid.
Even the commenters are questioning its truthfulness.
Are people really this stupid with their money?
You invest your life savings with an ex-con convicted of financial fraud and now you're worried about losing everything?
As someone said,
you're either exceedingly greedy, or criminally stupid.
We plundered our 401(k) to invest in a friend's business — now we fear it's a Ponzi scheme
We are in a sticky situation and need some advice on how we should proceed.

We had a friend who has had some success (and failure) in business. He was sent to federal prison for two years for signing off on falsified financial documents as an executive of a company. He claims he somewhat knew but was also sort of tricked into it, or at least was backed into a corner. Whatever...

But after his release he got himself back on his feet fairly swiftly. And when I say friend, this isn't a casual acquaintance: My wife, 55, has been best friends with his wife since they were toddlers. My wife met him in high school and actually introduced them to one another, so that is definitely a complicating factor.

After two years in prison, he presented an 'investment opportunity'
In August 2015, he approached us with an investment opportunity. Since his conviction he is no longer allowed to helm a publicly traded company, but he was running his own private company, a social media site for tweens. We even attended some high-level events like anti-bullying campaigns.