(Formerly UnrealCreative)
Read Fastlane!
Read Unscripted!
Summit Attendee
Speedway Pass
Sep 20, 2016
975
4,609
24
As the old adage goes...
"You can Train for Skill, but you can't Train for Character."
Disclaimer: I've only hired 5-6 different freelancers over the past year.
However, the quality of the Freelancers
dramatically
improved after utilizing these interview questions.
In fact, every hire that came through this process ended up being the best people EVER to work with, and are all incredibly happy to work with me.
Before...
(One of my old hires. He was given 48 hours to complete project and did not advise me upfront of being sick. This project was due the next hour):




After...
(New Hire Utilizing this List. Asked if there was anything I could improve on as a manager):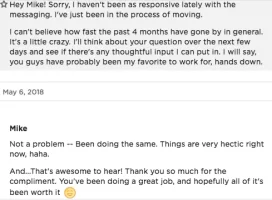 If you're just starting off hiring and want amazing people to work with who will never stab you in the back...this will be a good filter. Feel free to take and re-use on your own whim.
Here are the questions pulled directly from one of my job posts,
plus the thought process described below:
-> Asking for Sample works they've done.
-> Basic questions related to the work
Shows their experience level and performance/efficiency in performing a task.
If they take an enormous amount of time to complete a project, they're either inefficient or inexperienced. Likely both.
-> What are you most excited about this position?
Shows their interest level and potential commitment to your project. "Just need a job" or "Need some cash" are red flags for me as they won't perform their best and are not loyal.
-> What concerns do you have about this position?
Helps me understand my own positioning and make the job offer more enticing based on their 'wants' from the last response.
-> Describe a Time when a project you've worked on before went badly.
What went wrong and how was it handled?
Tells me a LOT about their character. Do they take ownership or point blame?
-> Describe a Time when you did not perform to your abilities.
What was the situation, and how was it handled?
Similar to the previous question, but worded differently.
Another integrity test for lying. Nobody is a perfect employee.
-> Describe a Time when you went above and beyond for a client.
What did you do? How was it received by the client?
Now we're looking at the positive sides of their character.
The 'How was it received' part is big because the difference between SAYING you deliver value and ACTUALLY delivering value to a client is night and day.
-> What is the top lesson you have learned in life so far?
Another character question.
Really brings interesting info to the surface
-> What is the biggest misconception others have of you?
This helps me know how self-aware someone is, and how well they're able to gauge other's responses to their work habits and adjust accordingly.
-> What was the best boss you've ever had? Why?
I'm looking for "The one that pushed me and helped me learn a lot" sort of answers. For me, it gives me an idea of how prideful they are. Literally had an applicant badmouthing his previous boss. Something along the lines of "I never liked any of my bosses that's why I'm a freelancer" is a red flag for me. They could have been the most skilled applicant, but this type of person will stab you in the back later.
-> What type of people do you have difficulty getting along with?
If they respond along the lines of "lazy / irresponsible people", I'll know he's the exact opposite.
-> Type 'watermelon watermelon watermelon' in the header of your cover letter.
This shows me that an applicant read the entire ad all the way to the end. If they say they're 'detailed oriented' but fail to type this, I know they're lying...and their application gets trashed immediately
Also, be sure to check out
@csalvato
's thread below:
GOLD! - Building a team around you that will follow you to hell and back.
Chris' thread and slide deck is very good at outlining the hiring process as a whole.
Consider this supplemental material that goes into the mechanics of the interview, coming from someone who has implemented it with moderate success.
If you have any questions or something to add, feel free to reach out!
edit: Mods, can you fix for formatting? I'm getting big paragraph breaks (gaps) in this post and have zero idea why it's happening.
@Andy Black
Last edited: