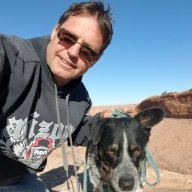 Legendary Contributor
FASTLANE INSIDER
EPIC CONTRIBUTOR
Summit Attendee
Speedway Pass
Jul 24, 2007
4,216
18,979
How often do we find ourselves in situations where we are bothered by people in our environment? Someone asking direct questions, sprawled against you in a plane, acting incoherent or loud, pushing hard in a negotiation, making judgmental comments, or maybe just staring down their noses at you...
Perhaps we are meeting with an attorney or banker. How do you dress? How do you give the appearance that you know what you are talking about?
Some people are not bothered by these situations or don't feel out of place if they stand out in a crowd. Others can be.
The feelings associated with intimidation can change our disposition, decisions, and choices... Choices are important to us. It may drive us to say "yes" when we mean "no". We may walk away instead of negotiate a deal. We may sit quietly and not say a word. Decisions may not be able to be made since our mind is pre-occupied with fear or discomfort.
We make choices every moment of every day. One of those choices needs to be to let situations go and play out. Letting the feelings go that may lead us to make choices based on reactions rather than desired outcome.
This can feel difficult because emotions come into play. We need to recognize these emotions and let them go. Accept, absorb, and let them go. Ask yourself what you are feeling in order to release the grip.
Growing up in a poor family with a severely mentally disabled mother gave me a warped perspective of myself. The first reactions to whatever came at me was to fight back. It was very difficult to reason with people due to the severe defenses that were raised. I would have a friend make the simplest of phone calls as I was afraid of the interaction.
The feeling that others were superior was especially difficult to overcome.
There was a point in my 30's where a couple of situations really came to light. I had applied for a management position. The hiring manager gave me feedback after the interview process. He told me that I was at the bottom of the list of six candidates. If he had another opening that I should not apply.
Well, I did continue to apply and got hired into another department as a manager of a group of highly skilled technicians.
Another situation found me looking for a four-plex to purchase. There was a realtor in town that did a large amount of small multi-family deals. After meeting with him, he told me that I was not ready to buy.
A person that I knew said that she wanted to learn the business from the real estate side. She told me that she had no experience and was willing to work for me for the learning. I was able to find a purchase a four-plex as a result.
In both of these situations I was very intimidated but continued to push. This was a big part of the learning process. But the basic path of fear remained in place.
As a manager at a large company, there were times that it was necessary to speak in front of groups. I would freeze up and could not even remember what to say. My hands and voice would shake while attempting to follow notes that I had written. Realizing that I was going to remain in this situation, I asked my manager to give me every speaking opportunity that came available.
The big kicker came when I flew across the country to address a group of scientists on a particular issue that the company had been working on. Afterward, one of my subordinates said "why did you tell the group that you were not a scientist during your presentation?". I realized that they would not have known otherwise and that this was coming from a position of weakness.
Never again would that perceived weakness be put forth. In fact, it changed the perception of strength. I knew just as much or more about the problem and the path toward solutions.
One day shortly after I quit my job to pursue real estate investing, I walked into a meeting. In this meeting there were lenders, commercial realtors, and attorneys. I was purchasing a multi-million dollar deal and needed to convince these people to overcome some obstacles to the financing.
I walked in to the meeting wearing shorts and an old tee-shirt. It was obvious that I was working on labor intensive issues. One of the guys in the meeting said "See! I told you he would drive up in his work truck and look like this". Others at the table smiled and nodded in approval. Another said "We can tell who in the room doesn't have a boss". I strolled past all the people in suits, took a seat at the table, and convinced them of how I was going to turn a crap property into a success.
It took years to overcome many of the issues. That does not need to be the case for you. The first step is to recognize the need to let go of the fear. It is our fears and insecurities getting in the way.
This is for you
@MetalGear
Last edited: