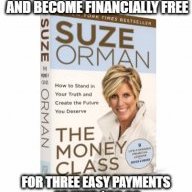 Contributor
Read Fastlane!
Read Unscripted!
Hi all,
I've lurked off and on for a couple of years. Was introduced to
TMF
by a friend 2 years ago and it made complete and total sense. It essentially ruined me as a traditional employee. I've kind of become a POS one to be honest. No extra effort, do enough to get by, certainly no late nights or weekends anymore. I just cannot justify doing it for someone else.
The challenge I have is that I'm the primary income for 15 more months until my wife finishes school. We have 3 kids. When I first read it she wasn't even in school yet. While I believe anything can be done, the logistics certainly make it challenging to get started.
I've spent many-a days and nights just brainstorming. I come up with a bunch of ideas that I really sell myself on, and then talk myself out of. Now, 2 years later I've really not accomplished anything and I'm still slowly dying at the job. I read
Unscripted
about 6 months ago, and it got me pissed off and brainstorming again, but not that FU moment apparently.
I've recently discovered the path that I think I want to go in. It's not exactly Fastlane on the surface, but if it all went how I envisioned it then I would be able to step away from the main operations and eventually sell it. I wanted to run the idea by this group and get some initial feedback.
The idea is by no means new or complex. Essentially, I'd like to help small businesses grow to levels that they probably can't even imagine reaching, through the use of effective marketing, operational efficiencies, and cost cutting.
Basically, I'd like to get the in with companies through offering digital marketing revamps - find local professionals (doctors offices, dentists, attorneys, CPAs, auto shops, hair salons, massage/chiro/PT, etc.) with a website and social presence that seems to be lacking. I'd offer a free overall evaluation and then a contract proposal. The proposal would offer a flat fee up front, and then a monthly fee to maintain advertising, etc.
Once results are realized I would potentially offer an expansion of services. The target client would be a professional that is very much caught up in their craft, and unlikely to know much about these areas and also too small to have someone in house handling it. This is somewhat of a marketing/consulting combo.
Right now I'm working on two projects for friends at my expense to use for case studies. My background and degree is in finance and I'm fully engulfed in learning sales/marketing strategies through various courses at night.
I know I'm not the first to consider this. I know that MJ in particular, as well as many on this forum despise the whole social media/digital/internet marketing/SEO gimmick stuff, but I'm not trying to be just another one of those guys, but rather provide a value to companies locally. As far as I'm concerned the sky is the limit for client reach as I can just go to the next town, and the next, and the next. Time constraints shouldn't be an issue once we get past the initial evaluations and revamps, then it would just be maintaining ad spending and mixing up ads and targeting.
If I get a client base so large that I can't handle the ongoing relationship management on my own then 1) I've got a really great problem, and 2) I can hire help. Similar to a financial advisor who one day retires, my exit plan would be to sell my book and collect a residual.
Be gentle.