Platinum Contributor
FASTLANE INSIDER
Read Fastlane!
Read Unscripted!
Summit Attendee
Speedway Pass
User Power
Value/Post Ratio
417%
Feb 2, 2017
667
2,782
It's 9:30pm.
Teeth are brushed, toenails clipped, and you're going to bed early so you can wake up early.
It's going to be a productive day! You are jacked about all the things you're going to accomplish. You're finally going to get to work and take some action!
First, you'll hit the gym to lift weights for an hour.
Then, a quick shower and it'll be time to cold call 30 potential customers.
Then, you'll read 25 pages out of your newest sales book before eating a healthy lunch. No junk food!
Finally, you'll finish that project you started two months ago but haven't quite got around to finishing.
Tomorrow is the day. You're going to accomplish more than you have in the last 7 days combined. You can feel it in your bones!
You fall asleep dreaming of the big houses and fancy cars you'll have some day and life is good.
BEEP BEEP BEEP BEEP BEEP BEEP
Time to wake up! There's so much work to....
wait...
Where's that motivation you had last night?
You know exactly what you need to do, but... maybe it's ok just play a little bit of video games first. Or maybe just lay down and read for a while. That's productive, right?
The day begins with you wondering where all that momentum and energy went that you had last night...
If this sounds like you, you're not alone.
Many people spend their nights with big hopes for what they will accomplish the next day only to find their mind in a completely different place when morning comes. What gives?
This common phenomenon can be explained with the Ainslie-Rachlin model of self control.
Basically, at night time before you go to bed, any reward you think of obtaining is at least 8 hours away.
It's human nature that a reward increases in value the closer you are to receiving it.
(Think instant gratification)
So, at night time when you're thinking about whether you would prefer to lay on the couch or go to the gym, the gym seems like the obvious choice. Having the body of your dreams and having more energy is much more rewarding than laying on the couch, right? You're able to see this clearly because both rewards are a long ways away.
Unfortunately, in the morning, when it's time to hit the gym, laying on the couch seems more valuable because you can experience the reward of comfort immediately when obtaining the body of your dreams is a long ways off. Make sense?
Here's a diagram to help explain this model: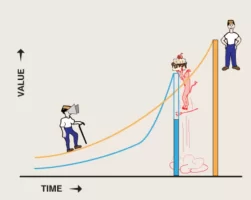 As you can see the man with the cane is weighing the value of eating a tasty treat vs having a healthy body. The treat seems more valuable because he's able to obtain it much sooner than the healthy body, even though overall being healthy is much more valuable.
So, how does one overcome this? I already told you. It will only take $100!
You can send the money to 6571 NE Cherry Dr....
Just kidding!
Give the $100 to someone who is close to you. The closer the better.
Tell this person, "I want to go to the gym first thing in the morning, but I'm afraid I won't follow through, so here is $100. If I don't go to the gym first thing in the morning, you get to keep it. If I do go, you give it back to me."
Do you think you would go?
Makes perfect sense right?
Think about the man with the cupcake. If that cupcake was going to cost him $100, do you think it would be of much value to him?
Of course it wouldn't. He would skip right past the cupcake and be on his way to achieving his
goal
of being more healthy. The same goes for you getting to the gym, or whatever thing you're struggling to follow through on.
That's it! It's simple. It's almost like flipping a switch in your head. You won't have to try and decide if you're going to follow through or not because you will have completely skewed the value in favor of the direction you choose.
If you wake up knowing that not following through is going to cost you $100, it will be really easy to follow through. If that's not enough, make it $500. Or, $1000. The amount doesn't matter. What matters is that you will have created leverage on yourself to follow through with what you said you wanted to do.
This works for anything. Just make sure the person holding your money doesn't run off with it!
Experiment with this if you're having trouble staying accountable. Pay attention to how your mind weighs the value of everything. Do this for a few weeks and you will have created a habit ,and you won't have to manipulate your internal value scale anymore.
If you do it right, it won't cost you a penny...
Cheers!