There are many useful posts around the forum and some of these posts really changed people's lives.
What if people could say "Thank You" to the poster by sending him/her a $ amount.
Each post would have a "
$ay Thanks
" button -> PayPal.
Something like: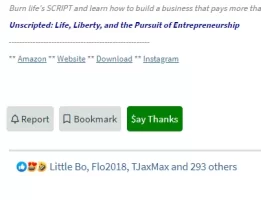 Benefits
:
Posters get rewarded and incentivised to keep sharing life altering tips (extra to doing a good deed).
Readers feel good about giving back (maybe they are now busy with their fastlane to do it otherwise, or the topic they wish to contribute with is already detailed on the forum).
@MJ DeMarco takes a cut of X% to run forum costs and what-not, and donates Y% of that to a charity.
Downsides
:
Possibly more landfills as aspiring entrepreneurs want to become millionaires on TFF now
From @Vairavan: Might remove posters' intrinsic motivation to help
???
If anyone is a forum owner, you can try applying this to your own forum too.
Last edited: