Contributor
Read Millionaire Fastlane
I've Read UNSCRIPTED
Why Is This Taking So Long?
I know you all of you have the stuff to do, so I'll be brief with my introduction. A few weeks ago, I asked for advice in this forum on how to start an eCommerce business. Before that moment, I was unproductive and was barely making any progress due to work ethic issues. Surprisingly, in these three weeks I have been extremely productive: hitting the gym in the morning routine, doing product research, removing all bad habits, freelancing, contacting suppliers, and whatnot. I've sorted out that part.
Here is where the next challenge appears. In e-commerce, there are some parts that don't depend completely on your work, forcing you to put your focus on side tasks and organize, especially when negotiating with suppliers and waiting for the inventory to ship.
There is nothing going on! It barely feels as if there were more work to do. There is not enough progression and workdays feel dull and repetitive. In short, it seems that things don't move faster, regardless of my dedication. In fact,
everything would be the same if I didn't work today.
That is why I wonder...:
Why Is This Taking So Long?
Now, don't get wrong. I am aware of the price of success and how long it takes. Obviously, I haven't stick long enough to make it happen yet (because three weeks is nothing compared to months and years!). My only problem is monotony. I don't believe I can give my best in business If I am uninterested in the execution of the task.
Of course, this is not about adding more unrelated activities to stay busy. It is smart to stay focused on one thing.
Do you think there is a way to add more variation inside the same activity?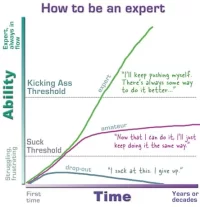 It is not very different from this graph. You should follow the green line to get to success, which is "I won't stop until I get to the end".
You already know how the purple works. On the middle of that process, there appear many other attractive opportunities, making your current path look uninteresting. If you give up, you would have wasted your time, having to start a new path from zero, and repeat the cycle. I feel on the middle spot, struggling with monotony and engagement.
Why Is This Taking So Long?
It doesn't take long. Maybe your routine is simply too repetitive and nothing is happening. It is about adding more experiences and life to your routine.
Unfortunately, I haven't found a solution for this yet.
I'd really like to hear your thoughts about this. Lastly, don't confuse Monotony with Boredom. Let's say that boredom is being unengaged because of low difficulty and challenge. Monotony is about the lack of variation or novelty.
How do you overcome monotony without adding unessential things?
Don't like ads? Remove them while supporting the forum. Subscribe.