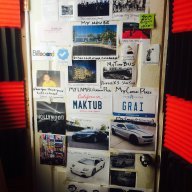 Contributor
Read Fastlane!
Read Unscripted!
Speedway Pass
I'd like your opinions on something.

I know a lot of musicians and creative people who will create works but when it comes time to release them, they won't because they're not sure how to "market them"...aka they don't want to release it and have no one hear it. On one hand that's kind of understandable but on the other hand it's not because then years go by and they never release anything ever. In business i think this would be the equivalent of producers trying to wait until the product is perfect before they sell it.

On one hand i understand because nobody wants to put out a product to nobody, but on the other hand if your goal is to be successful (at anything) not putting out the thing that brings the value will never get you there. So what's your guys' opinion? What would you tell these people if you sat down and talked with them ?