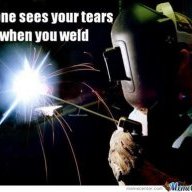 New Contributor
Read Fastlane!
The fast lane has changed quite a bit since i've last been on. i've also had to let go of my
INSIDERS
subscription in the last year a result of being focused on my window washing company that i see now was failed from the start. since i lost my subscription i also seem to have lost my last progress thread and any access i had to it. i'm starting this progress thread in the public forum to avoid that in the future. this community however has done so much for me and i have learnt a lot. i guess the in this post id just like to express my feelings regarding the ups and downs of this experience and hope that i can maybe give something back. i'll also share my new focus and direction now that i have picked myself back up from my spectacular stupidity. so in my home town i use to work with my best friend. he had inherited a window washing company from his father while we were in high school when his father was no longer able to do the work. he was supposed to give his father a % of the profit in exchange to help with his fathers medical bills. my friend controlled at least 60% of the window washing market in our town at the time this allowed him to help his father. pay his own bills comfortably and also pay me generously. he and i were pretty good at washing windows and managed to take a small % of the surrounding towns market as well funding our teenage antics and partying sufficiently however as graduation neared i had bigger plans than being a small town window washer and left my small town pursuing education and a bigger brighter future. we stayed friends and i sometimes would visit my family and help with his small operation which didnt grow much in this time i was trying to figure my life and career out. after dropping out of collage and then attending dive school to only fail at finding a job i eventually fell back on welding in atlanta this is when my friend and i had the bright idea that there was a much bigger window market in atlanta. this was shortly after i had read the millionaire fast lane and thought this had bestowed the gift of business expertise on me so i thought with my new insight and his expertise in washing windows as partners we could cut out a nice chunk of market for ourselves the same way we gained business in our home town. long story short i paid his way up to atlanta told him while i worked and fed us for the first few months he would work on sales as he was a very good salesman at home home months went by and i tried to support sales best i could however he seemed to lose his sense of responsibility in the excitement of the move and in my opinion spent way to much time out enjoying the city instead of nurturing our budding business. sales never happend my nest egg dwindled and eventually he ended up back in our home town on his dad's couch. i realize now he was not cut out to be a good partner. if anything i should have treated him more like an employee since i came up with all of the money/equipment and eventually also tried to take on the first few sales even though i was already exhausted with what i had on my plate. i wanted to give him confidence that the city was no different than our hometown. after dragging him around the city in search of sales i quickly realized lack of ambition and not cold feet was to blame for my business failing as he half heartedly pitched to prospects with me i ruined a friendship and i am now in an industry i dont have the proper expertise to succeed in. now i'm exiting to refocus on something i have more control in. i tried to scale someone else's value before they were ready instead of trying to provide my own. i regret how i negatively affected his life even though i realize he is an adult and makes his own decisions. i feel like having inherited his first business he was not prepared for bootstrapping ours and i sold him this idea or opportunity for a bigger market prematurely although i was completely honest. moving on.
upon re-evaluating myself i have been welding/ fabricating for many years. i was taught young and dual enrolled in high school to get my certs. my next thought was to invest in myself end what i was best at so i've been playing with the idea of either purchasing a weld truck to at least make the move into freelancing then eventually a business or just making the leap to full fledged fab shop creating jigs for other companies now that my nest egg is back up. after trying my hand at washing windows however i know know just how hard it is to try and bootstrap a b&m i just can't seem to get my mind out of this physical b&m box i guess is how i would describe it. i lost a lot on my last b&m attempt and know it will most likely take more to make it which i am prepared for however to better control my risk im trying to make the best and most educated decision that i can for myself before i risk failing again. i don't regret my losses however i think for the money i've spent i've learned a lot especially in sales working for my competition and i now am more comfortable with paperwork for the government and legality which was more scary than difficult anyway. though i enjoy creating and monetizing my skills would allow me to satisfy that desire. i've also thought about trying to monetize my girlfriend and i's cats instagram account which is starting to get a surprising amount of followers. this has been my most prominent idea to avoid the physical exhaustion that comes with b&m's plus a nine to five to support it because it also has the interest of my love. i have many skills and product ideas and can learn anything so this makes my decision that much harder. i lack however confidence in a lot of my product ideas of which i know would be costly to develop just from my experience prototyping underwater rov's for stem class. i guess my first step for now dis going to be to see how costly it would be to get set up for welding/fabricating for myself would be and to put the cats insta on the backburner as a hobby interest since it's free right now to try and increase traffic. also maybe research licensing.
sorry for the wall of text however i feel as though i was not being in depth enough or providing much for you guys in my last post. i also apologize for the repetitive use of i my girlfriend is trying to help she is an english minor and it drives her crazy. please feel free to ask anything or share your thoughts