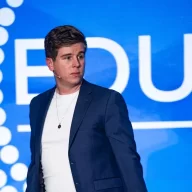 Bronze Contributor
Read Fastlane!
Read Unscripted!
Summit Attendee
Speedway Pass
When most people are starting out, they hope to be successful quickly. They read a book, think they have all the knowledge they need, and after not succeeding right away, they stop.

If you're currently doing this, you are working against you brain's biology.

Whenever you learn something new (let's use an example of learning to write good copy) there are two ways that knowledge gets transferred into long term memory (which is where your skills are stored):

1. The quick pathway- This happens at the synaptic level of your brain. Basically new synapses, neurons, or connections are created that correspond to the knowledge you've learned.

You might have new connections that correspond to learning that you should use benefits instead of features when writing copy.

You might have new connections that correspond to learning that using long, complicated words isn't helpful because the majority of people read at a 5th grade level.

However, even though you have those synapses formed, you still can't use the full power of the knowledge you obtained.

That's where the next way of memory consolidation comes in:
2. The slow(process) pathway- This stage can take weeks, if not months. This is where your brain completely reorganizes some of its sections in order to maximize efficiency and prune off connections that you don't use.

This means that even though you might have learned a new way of thinking, skill, or something similar today, you won't actually be effective at using it weeks, months, or maybe even years down the road.

And this is where practice comes in.

If you learn a new skill, practice it, and then get feedback (from the market, from someone who's done it before, etc), you will get the maximum benefit of creating the quick synapse connections combined with the long-term benefit of speeding up the slow-process with feedback & maximizing the efficiency of the connections down the road.

And this slow process actually changes where in you brain the "thinking" happens which means it'll be easier and take up less resources, allowing you to improve your skills even further.

So... what I'm trying to say is this:

Get your a$$ off the couch, and get. to. work!