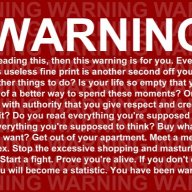 Gold Contributor
Read Fastlane!
Read Unscripted!
Speedway Pass
User Power
Value/Post Ratio
150%
Jul 3, 2018
1,428
2,137
"Survivorship bias
or survival
bias
is the logical error of concentrating on the people or things that made it past some selection process and overlooking those that did not, typically because of their lack of visibility. This can lead to false conclusions in several different ways. It is a form of selection
bias
."-Wikipedia
Survivorship bias in the case of entrepreneurship is that I look to other rich/successful people and think, "If they can do it then I can do it." while ignoring the many people who have failed to get there.
Would you consider this to be scripted bullshit or true?