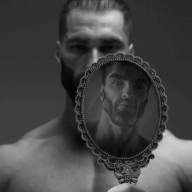 User Power
Value/Post Ratio
145%
Mar 11, 2023
11
16
Hello, I am a 14 year old student in the UK, not sure of the road ahead, but excited to begin the drive.
Backstory
For most of my life, I have been the chubby but athletic kid. My prominent fat gain started at around 7 years old when I got my first piece of tech, my laptop. I spent all day on it playing games and watching Youtube; I rarely got up from my chair and because my mother made great food, I would chow through 3 plates of food that could feed a small village in Ethiopia and I gained fat like a MFer. I was around 30kg, 4'something and after 7 years, I'm now 14, 5'10 and 95kg. In primary school (elementary for the Americans), I rarely got bullied for my weight and didn't see it as an issue at all. Secondary school (high school) is where it began. I didn't get ruthlessly bullied to the point of cutting my fat off with a knife, but my friends would regularly use it as banter, but I didn't take it to heart. However, it was explicit that my weight wasn't attractive to the thing I was in interested most, girls.
Self-Improvement
I began my self-improvement journey when my dad bought me a pair of dumbbells & a bench on my 14th birthday. I began obsessing over it and it completely took over my life, as it was the first thing that challenged me physically AND mentally. School has been a breeze, with practically no revision, finishing my homework at the last minute, meeting the minimum expectation and still getting top-of-the-class grades. It took months for me to finally see progress, but when I did, I was over the MOON. The first time I saw my bicep! I then started becoming obsessed with the idea of self-improvement, starting to eat properly, getting rid of unhealthy habits and addictions (but some still plague me) and becoming far more motivated to keep going for many months.
Then, I stopped. All of my healthy habits started disappearing and for a couple of months, I just sat around, doing F*ck all, playing video games with my friends, spending money on the newest console and spending obscene amounts of time on it playing games. Throughout this, I still flexed my muscles to my friends, acting as if I was still dedicated to my "grind". But I knew I was lying. Nobody was there to actually see me working out, motivating me, telling me to wake up and get my shit together and to stop being lazy, no competition except for an idea.
Finding "the Millionaire Fastlane "
Until a very good friend of mine started becoming interested, he asked me how to start working out. I gave him as much information as I could and... he actually implemented it! He bought a gym membership, sending me pictures and videos of him working out. I became frustrated with myself. I have been and always will be very competitive and so when I saw my friend improving, getting stronger and getting bigger, I KNEW I couldn't let him reach my "throne". I got the same gym membership and started going to the same gym as him. Every day we both showed up to compete with each other and we got much closer, speaking about everything from the girls we liked to our future.
That's when the discussion of money came up. I haven't had the richest upbringing, however, I wasn't poverty-stricken, I could get what I wanted, as long as it was within a £100 budget. But I was CLUELESS about money, my future or anything. I didn't even know how a credit card worked! He explained to me everything and was patient. He showed me potential business ideas and we both invested countless hours watching finance gurus on Youtube and people who "struck gold" with their businesses.
Then after a couple of months of discussing business, money and everything, he introduced me to "The
Millionaire Fastlane
". As of now, I've only read the first 100 pages within my fourth day of having it (with school, gym and homework accompanying the majority of my time) and I was astounded... Not only was it the first book I actually enjoyed reading and looked forward to flipping to the next page, but every word I read spoke to me on a different level, as I've seen it happen in real-time to my older sister, who when she turned 18, instantly got a job at a burger place as a waitress and is now working ungodly hours to support her "Sidewalker" habits. Getting new nails every week, getting a new wig, a new dye for her hair, a trip to Egypt that she possibly couldn't afford, new shoes that she wore once and new clothes that were left living in her wardrobe, never seeing the light of day. It changed my beliefs on money, as I've always believed that the "secret" to wealth was getting a good job that you liked and investing 10% of your money into whatever stock you could find. It was what every teacher told me, and why wouldn't I listen to them, right?
Goals
- Become financially free by my early 20s, so I can spend 50 years in luxury.
- Retire my parents.
- Be the healthiest I can, maintain a body I'm proud of and eat food I love.
- Have a life-long, loving relationship with a beautiful girl.
- Create a close-knit friendship group where we are all wealthy and respect each other.
- Be able to look back and say I would make 14 year old me proud.
- Travel the world.
Final Ramblings
I expect to finish
Millionaire Fastlane
soon and read MJ's other books that I've heard of to be good as well and be an active member of the
Fastlane Forum
. Hopefully, I haven't made this introduction too long, as you can tell I love talking about myself and I've reread this like 10 times. There are some things I left out as this is already really long and this isn't the place to be writing an autobiography.
Hope to see you again.
- Dominic M