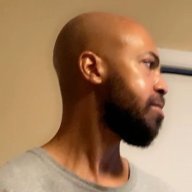 Contributor
Read Fastlane!
So, I am calling this a "reintroduction" because when I first posted here:
(https://www.thefastlaneforum.com/community/threads/underemployed-dropout-that-never-quite-fit-in-did-i-mention-that-i-was-diagnosed-with-ms-and-even-more-fun.104032/page-2#post-1009153
), I was sharing the story of where I was at the time.
At that time, I was newly diagnosed with Progressive MS, having issues with Crohn's Disease), just watched my mom pass, and was unemployed in a new city. I came across "
Unscripted
" and was amazed with the kind of wisdom in this community...so I jumped in because I wanted to be connect with the community behind that, even if my life was screwed up horribly.
Flash forward a few weeks, I am now working from home doing tech support (remote). I applied and received a scholarship to take Comptia A+ prep courses through Comptia Tech Academy (I am Google IT Support certified.) for the next few weeks, 7-10 PM.
I am also a shadowboxer. I train at home using the PunchLab app, but also train in person with a boxing class for people with movement disorders.I also train (although no sparring) with a traditional boxing group as well. The boxing has really begun to change my body for the better.
As far as eating, I literally gave up on the idea of finding the perfect diet, with both Crohns and MS and a small fridge and a budget that is just starting out; I got frustrated and just focused on simplicity. I eat meals similar to what Mike Tyson ate-oatmeal, rice (I get brown rice), chicken, and include things like eggs, vegetables, and natural fruit juices along with shakes of collagen protein, almond milk, and fruit.i also have a multi-vitamin and fish oil. At this point, if there is a food that I feel is destroying my body, I'll stop eating it...but my goal now isn't to limit food...it's to eat more healthy than unhealthy and see how my body responds.
I am still writing my autobiography.
As far as business like I am returning here because it is time to plan my next move with that. Regardless of my health status (because I believe my primary doctor believs nerve damage might be spreading), I don't work to work until my dying day for someone else. I want to build generational wealth to pass onto my nieces and nephews.
Right now, I have two ideas but i need to flesh them out in order to proceed. That's why I'm lighting a fire here.,,to get inspiration, strategy, and connection so I can have something beore Nov. 1