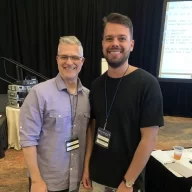 Platinum Contributor
FASTLANE INSIDER
Read Rat-Race Escape!
Read Fastlane!
Read Unscripted!
Summit Attendee
Speedway Pass
I think we need a random off topic chat thread where we just dump all of our half fleshed out ideas that we will never do anything with and discuss them, things that are not worthy of an INE or their own thread.

Why? Maybe someone from the forum will solve your problem for you. Maybe you'll find a half baked idea you can develop into something.

I'll start with mine:
- Uber for freight, there's a massive shortage of freight drivers right now, how about someone with a Ute/truck can just do bulk local b2b deliveries for warehouses like an Uber.
- people with Crohn's disease sometimes have to do these strict diets where they only eat these shakes, they do this for months and they only have 3 flavours. I think this is the case anyway I don't have crohns but I remember a workmate doing it years ago and complaining there was only 3 flavours, how to spot an idea 101.
- a phone charger cable that's some kind of folding circuit board that folds up shaped like a credit card. Definitely doable with the new thin connectors and the usb that are just the flat board part of it.
- a print on demand 3D printing business that prints peoples custom in game characters from games like RuneScape, this is probably the best of these ideas, it would make a huge business if it was done well
- when houses are auctioned people have to get a house inspection before they bid because they can't do it after they bid, this can get really expensive if you lose a bunch of auctions and is so inefficient. Set up a business that inspects every house being auctioned and just resells the same inspection to anyone interested. Even better if you just pay a share to someone who's had an inspection done there already and gives it to you to resell to recoup some money.
- yoga mat covers like towels that slip over the mat, cool patterns, washable, grippy. I think I've started seeing these now but still an idea.

That's all I've got, hopefully some others a willing to share theirs.

It doesn't matter how terrible they are just share them here it's what it's for.
Last edited: