New Contributor
I've Read UNSCRIPTED
Lol, sorry for the clickbait. I don't have built any Amazon yet, and neither I've started.
A quick intro: My name is Alfonso, and I am a 20-year old software developer and data engineer—I really like to say that even it is not 100% true by the time. Where I am currently geolocalized in Venezuela. Two years ago I was subscribed to the Sidewalker-mindset, but then after reading for the first time a book, one of those about self-help, I just decided to become as rich as possible to pursue tech development on my own. Then later, once upon a time, I discovered James Jani's video about the untold truth of money and then bought MJ's book as any guy who's seeking success and is really confused would do.
To summarize, my dream in fact is to become someone like Elon Musk, Steve Jobs, Jeff Bezos and Bill Gates (yes, including the money trait). Although there are more points on the to-do list. However, at the moment, I just could manage to find a Slowlane, remote contract as a developer in a Spanish tech startup. Though my wage is far less than what a software engineer is actually worth, I earn enough to start thinking that a business is possible. I have learned quite a lot from this current experience.
So enough bullshit. I am looking out what kind of problem could I solve and sell with my computer skills. My prospects are to move to the UK and start a business there. In some effect, I want to make the next kind of company which could be the next Amazon—spiritually, not literally—and liquidate it to just repeat the process again, and again until I have children—if I do though.
Anyway, there's not so much clickbait at all. Last few days I have been building my own IaaS (cloud engineering provider) inspired by Amazon Web Services and Azure. That by entirely be made from scratch with Python, Flask and Docker. The thing is that neither AWS and Azure let me create an account and use their services because I don't have a valid credit card. Frustration got me to the first principles: building my own shit if nobody wants to sell me their own.
This is a little piece of code from what I am very proud of: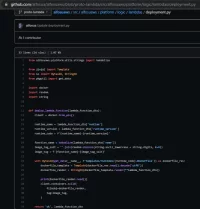 I call it
Alfosua Web Services
. Until now, there's only a not-so-functional version of AWS lambda function feature.
So I want to finalize this post by asking something simple:
What do you think would be the next Amazon?
Let me know what your predictions are, to see if I can steal some wisdom (?