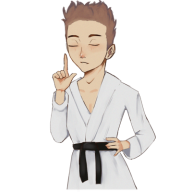 Legendary Contributor
FASTLANE INSIDER
EPIC CONTRIBUTOR
Summit Attendee
Speedway Pass
When I was real young, I did my first Karate tournament.
I was a gold-striped belt (one above white in our system) and I was up against 2 white belt girls.
I *knew* I had it in the bag.
...I took 3rd place.
From that day I was obsessed with being first place. I remember looking for any opportunity to find people who were better than me and train with them. That obsession continued well into my teens (and still runs my life today).
I traveled the country looking for the best martial artists, teachers, and coaches I could find to improve my skills -- I wanted them to
teach me everything they knew.
One day when I was doing a particular movement, Sensei comes up to me and says "what the hell are you doing?
I'm practicing this move...
"You're doing it wrong, stupid." (my Sensei was an interesting character
)
He showed me what was going on and I said "What the hell, I've being doing it this way for 10 years... why didn't anybody tell me??"
"They didn't know."
What do you mean they didn't know!?
"I'm never going to be able to teach you 100% of what I know. My sensei before me didn't teach me 100% of what they knew... and before that... and before that... martial arts has been around for thousands and thousands of years... some stuff just gets lost over time. It gets diluted and it becomes hidden knowledge."
SENSEI! TEACH ME THE HIDDEN KNOWLEDGE!
"There's nothing magical about it, ya fruit cake. And it would take years to correct everything that you think you know."
Without tooting my own horn too much, at that point I was one of the best martial artists in the country. I was a champion many times over -- and I was completely disturbed because I realized how little I actually knew.
Why am I bringing this up?
Because I've noticed on the forum lately many people are posting about their thoughts on this guru or that guru...
They are taking sound bites
without context
and either claiming it as
gospel or heresy.
From someone's work ethic, to strategy, to investment strategy...
I believe we, as a community, need to become obsessed with finding the hidden knowledge.
Shit, how many here actually read The Fastlane to Millions?
No -- I mean REALLY READ it. Where you look for what's being said and what's not being said? Where you really dig in and say "what does this really mean?"
How many have
looked for clarity before adopting a belief system that may or may not be accurate?
We have a plethora of "experts" on here lately who claim to know everything there is to know about a certain subject.
If you're the expert (or want to become one) you have to start producing the results.
You have to understand the hidden knowledge that's behind that subject.
What are you doing? WHY are you doing it that way?
Is it because you read it in a book somewhere and now you're regurgitating it? ...or is it because you've tried a few thousand times and realized that you had to tweak things? You have to change and adapt to a new environment because it didn't work exactly as it was laid out in the book.
You can read all the books you want on psychology. You don't know shit until you start doing therapy.
You can read all the books you want on marketing. You don't know shit until you start running ads.
You can read all the books you want on business. You don't know shit until you start running one.
I'll be the first to admit -- I thought I knew psychology studying with big buddy. I knew his material better than he did -- but yet I didn't GET IT (and I'm still working on it every day) until he put me in front of hundreds of thousands of people to go practice my craft. To really understand people. To really get WHY he said some of the things he did.
To walk into a room and own it, whether there's 10 people or 10,000. What problems are going to show up. How to solve those problems before anybody even knew what happened. How to influence people to get out of their own way and do something that's good for them.
It's been an intense study and I hope everyone here with me starts taking their craft seriously and dig in (and SHARE) the hidden knowledge that they find.
I'll do the same.