Time flies, really fast.
Just got my one year forum anniversary notification and decided to do my yearly review.
Well actually at the moment I've got nothing to report but failures. And it kind of sucks because after all that sh*t I went through, I'm now back at square one. In fact I think I'm worse off than before I joined the forum, financially speaking. So I don't plan to write much about my failures because I'm already my own worst critic and I don't want a permanent reminder, in written form
I do however; want to write about how I've reacted to failures now as compared to the past. One year ago, if I hadn't joined the forum and experienced the sh*t that I went through, I would have probably sunk into a very long depression and unable to recover.
Reading all the stories in the forum has definitely helped me develop a better mindset and a stronger resilience against failures and setbacks. Just like how a toddler must fall and experience pain multiple times before he can finally walk, so must an entrepreneur experience the agony of going through failures and setbacks before finally succeeding.
I'm writing this as a reminder to myself, and to all members out there who are struggling, keep it up! When you have fallen and bruised yourselves badly you have 2 choices:
1) sulk, point fingers and whine all day long about how the world is so damn unfair and how things hardly ever go your way
OR
2) pick yourself up, carry on, and make things happen.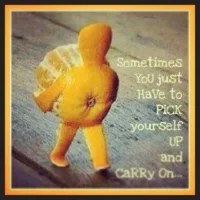 Make the choice that the future you would be proud and thankful of. Remember, tough times never last, tough people do!
P/s: I'd also like to thank the forum members (too many to name) for sharing your experiences. Your posts have directly/indirectly helped me on my journey