Hey!
This is my 2nd intro... but it's the "real one."
A few years ago, I created an intro thread, stating that I want to pursue a business and how driven I was to do something with my life. At that time, I did an apprenticeship and wanted to start my own (web design) business.
Fast forward a few years (6!), my life is a mess and I'm the only one to blame.
I'm still living at my parent's house (I'm 26) and need to borrow money from my dad regularly to pay insurance.
When I spend time with other people, I always wear a mask pretending everything is ok -- when, in fact, I'm just lying to them.
I spent the last 6 years studying copywriting -- and literally half of my life programming.
I wanted to combine these two skills and offer businesses to redo their websites to get new clients.
But I'm F*cking insecure.
The thought of someone calling me for business just freaks me out because I think I don't have "enough" skills or I'm just lousy at doing business.
So I did around 15 jobs on Upwork so I can deal with clients via text... and escape my fear of speaking to someone directly.
But Upwork is so competitive that it's not possible to make a living.
So most of the time I did... nothing.
Sitting in my room, reading about programming, copywriting or persuasion.
I mastered the art of action faking.
I was quite comfortable doing nothing. I always knew, I was slipping into more and more trouble by doing nothing but I couldn't link enough pain to the fact that I don't have any income.
Of course, I was worried when I could get e.g. a new haircut because I waited for my parents to give me $20 every once in a while.
But all in all, I got so accustomed to not having any money that I only spent around $100 in the last 7 months. And so I had no "motivation" to earn money. It's ridiculous.
Of course, I felt down once in a while. Sometimes F*cking down. But I always thought: "ok, that's it. That's how my life is."
I was always the guy who played safe, who just had to take out his phone to call his parents when something bad was happening and who got out of most of the things by having his parents helping him.
The only thing they couldn't offer me any help was something that happened last week...
I was doing the #1 thing I do to escape my miserable life... dating a girl I "met" on Tinder. To make it short, she blew my mind. We met 3 times within 1 week... and unfortunately, she moved backed to her home country yesterday.
And now I feel F*cking miserable because...
she's away and...
because I feel how everything around me is a mess. She distracted me so much that -- since she's away -- I'm in such a void to see how miserable my life is:
How I don't have any options to do things I like. How I can't go and watch movies. How I can't buy new clothes... How I can't do things I want.
I was always the guy who read about other people who had their life together and were working hard so they could say e.g.: "F*ck that, I'm going with her for a few weeks."
Unfortunately (because of my choices), I'm not one of these guys. I've created my own "jail."
Sure, we (she and me) don't really know each other, and the point isn't to move together with her (this would be stupid). But I think, spontaneously packing my things, driving 10 hours to someplace I don't even speak the language of and spending a few weeks there could have ended in a lot of good (and valuable) experiences for me.
And this is were I feel, for the first time ever, that having no money really is a problem and boils down to not having any choices. It could have been such a nice time: Spending time in another country, working from there creating websites and getting more self confident along the way...
I've never been away from my parents for more than 1 week and I had always thought, "I'm not the guy who wants to visit other countries or live somewhere far away."
But I only thought that because of my insecurities, I think.
As I'm so pissed of about my behavior over the last few years, I created a direct mail for a local business to offer them to redo their website. I throw in the letter this evening (because I can't afford stamps...)
I attached a picture of it but chances are you can't read it (it's in German).
P.S. I want to apologize to everyone who read my text because it's full of negativity.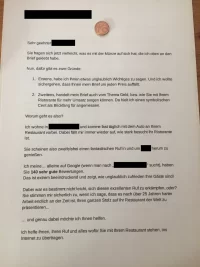 Last edited: