New Contributor
Read Millionaire Fastlane
I've Read UNSCRIPTED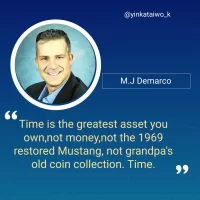 I have been designing and posting quotations on my Instagram page @yinkataiwo_k. Today is the last quotations about time. And I have to include my mentor's quote about time.
MJ DeMarco
, sorry I stole your picture from Google. Please if you are reading this please like this post on my IG page. @yinkataiwo_k
Don't like ads? Remove them while supporting the forum. Subscribe.