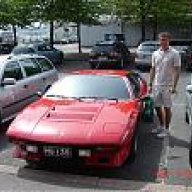 Gold Contributor
Speedway Pass
Guys, these threads go GOLD because as an investor/fastlaner, you need to be able to spot bullshit. How do you spot bullshit?

MATHEMATICS

. Those same mathematics is what tells you that the Slowlane is shit, not because of compound interest (indeed that's powerful), but because of TIME and INFLATION. Mathematics tells you that those guaranteed 18% yearly returns promised by slick financial guru is a scam. Mathematics tells you that the Russian immigrant ANTON is not a millionaire because of his army salary and his highly leveraged real estate. And yet, this is the shit the media is serving you-- and God knows, how much of it is

really

true, or just fabrications.

Once I read this story I knew it was bullshit, or there was something not being disclosed, perhaps like he started with $65M compliments of his parents.

On the Fox Business Channel they discussed this kid (before he was outed) with 3 financial guys... count em... THREE. Only one said "this doesn't pass the smell test" -- the other two applauded the kid and didn't care to think about the mathematics behind the assertion. For the love of GOD, CMON! These are career financial guys entrusted with fiduciary responsibilities of your money!

Here's an actual mathematical dissection of what would have had to occurred for the story to be true.

http://www.marketwatch.com/story/ho...rade-to-build-a-72-million-fortune-2014-12-15

And now turns out, the kid didn't do shit, but play up a role compliments of Hollywood Wall Street archetypes, Belfort, Gekko, et. al. Fancy suit and tie, caviar, slick hair, expositions of extravagance, wow o wow.
You should read "Damn it feels good to be a Banker" It's good satire.