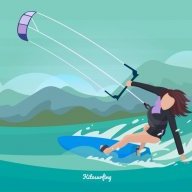 Bronze Contributor
Read Fastlane!
Read Unscripted!
Speedway Pass
Hi guys,
I just wanted to share the beginning of my journey with you guys.
After what felt like an eternity, I finally handed my resignation from my 6 figures job to return to my country and focus full time on pursuing my entrepreneurial goals.
After delivering the news, I received all sorts of comments and impressions from my environment and my coworkers, many people told me if I were crazy and many other secretly admitted they were jealous and wish they had the guts to do the same and even told me about their ideas and their dreamed projects.
That made me realize how many people out there have excellent ideas and the ability to successfully execute them (I have worked with them and know their potential) but are not acting just because of fear.
That same fear I didn't want to admit I had until the situation at my job got really unsustainable (which happened several months ago). It was in that moment when I had to look deep inside and face my inner demons and be complete sincere with myself.
I then realized that entrepreneurship is risky, but so is a job, (specially in my company that had been through several reestructutings and they are quite "trigger happy" at firing). At the end what did I have to lose? If everything went bad I could always go back to my industry. So I made the determination, I had to wait because of a signing bonus clause that would have made me owe them money I didn't have, so I decided to wait and save for my venture so I could start with a good cushion. I don't know if that was a good choice or not but it is done.
But the day has come and I finally handed my resignation, I couldn't feel more motivated having eliminated this huge headwinds (job + location).
I have several viable entrepreneurial projects in mind but I decided to focus on the craziest and riskiest one, which is also the one with higher potential and I have been working in it for a while.
I also want to encourage all that people who wants to do it but are scared: take the leap, try it, after all, if it does not work, you can always go back to do the same... if you still want to.
I will keep you posted with my progress
Sent from my SM-G920T using Tapatalk