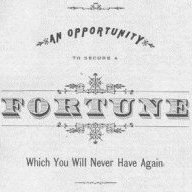 Bronze Contributor
Read Fastlane!
Read Unscripted!
Speedway Pass
I knew things were going to change after reading the book. But I still don't feel like it's going fast enough for me.

However, I've been working my tail off and, if I allow myself to remember how shitty it was -- collections agencies, state aid, borrowing/getting money from family, gf paying more than me for rent and expenses, appealing for a cash gift from parents to be able to move out of a high-cost of living area into a rural cheap one, continuing to borrow even after that move -- THEN I realize, I'm not doing so badly right now.

That was in '15. So FF to '18...

I'm fixing my credit, paying bills on time, covering my entire rent. All because I focused on providing SUCS (surprisingly unexpected customer service) and providing a superior product -- no matter how inexpensive it is or how difficult or easy it is to produce. Margins rose when demands on my time rose. Customer reviews are a priority so I continue providing that same fantastic customer service.

Yeah. I forget. But I shouldn't.

My focus is on the daily grind in my freelance, inventing-a-job-for-yourself kind of work. But bills are paid and I'm discovering a new kind of stress. My old stress was one that bit me in the butt because of past failings or unfortunate circumstances. My new kind of stress is one where I'm planning for stuff, and I'm counting the pennies, and I'm also considering what my next steps are to move UP to the next level -- rather than constantly trying to avoid sliding down into a lower one.

When progress is made incrementally via a process, I don't necessarily realize how far I have come.