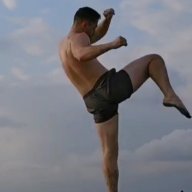 Contributor
Read Fastlane!
Read Unscripted!
User Power
Value/Post Ratio
79%
Apr 21, 2022
62
49
OK, so why should you NOT tell yourself that you're a loser if that's the reality? Why should your self-talk be like "I'm the greatest chad of all time, and I bang chicks left and right, driving in my ferrari, fit as F*ck and wearing my guccis" when the reality is that you're a fat slob who watches Netflix the whole day and pushes burgers at McDonald's?

I don't disagree with your other points - you can definitely do both.
The original post wasn't that bad, but the next 2 pages of vehement insults and grade school level drama really drove the final nail in the coffin.

The world would be a very boring place if we all had the same opinion.

There is nothing wrong with disagreeing with each other on certain topics, but there is a big difference between an intellectual debate and a shit show filled with insults and personal attacks. This just shows poor insight and immaturity.



---


On the topic of mindset and identity:

From my own personal experience, our identity - the way in which we see ourselves is the main driver of 99% of our behavior. You can act consciously and use your free will to act and do things that are outside your self imposed mental boundaries (identity), but as soon as you "fall asleep" and turn on the autopilot, you will start behaving according to your identity - which means you will default to the most dominant habits and patterns of thinking that you've built over time.

Everything that you think, feel, and do gets recorded into your system and slowly builds up into your identity - who you think you are. But this accumulation happened over the course of decades.

Trying to change your identity through positive thinking and affirmations is a preposterous idea. It's like trying to break a concrete wall using a plastic fork. What you do in a day (99%) will always overpower your morning affirmations (1%) - the bulk of our thoughts, emotions and actions will always win.

Which means that the most effective way to change your life is through repeated positive action.
Do the things that you want to do. Practice being the person that you want to be.

And always remind yourself that you are the source of your life and the creator of your own destiny. What you choose to do today will determine your future.
I purpousl
Agree here also. I just didn't get the part about hypnotizing yourself to be confident and abundant at the early stage.

The more you feel confident and abundant it kills off whatever hunger that is remaining in the person.

The only exception with affirming and self-hypnosis, which I can see to be extremely beneficial, is to hypnotize yourself to be a high pain threshold action monster. It is what the extreme bodybuilders do (minus the self-inflicting damages that you shouldn't follow).

A bodybuilder will keep repeating to themselves that "I love to eat chicken breast, salad, drink plain water and it tastes delicious".

You can easily copy and transform it into whatever task you hate to complete and do them.
Exactly, you can use it to tell yourself I love to work.
"Every hour I put in to work makes me more and more hungy and excited" "the more I work the more energy I get"
Ect... Those are affirmations too