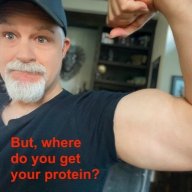 I followed the science; all I found was money.
Staff member
FASTLANE INSIDER
EPIC CONTRIBUTOR
Read Rat-Race Escape!
Read Fastlane!
Read Unscripted!
Summit Attendee
Speedway Pass
User Power
Value/Post Ratio
431%
Jul 23, 2007
36,342
156,472
DISCLAIMER: Thread title is done for conversion/reading purposes -- I don't mean to offend my forum regulars -- this is for the folks who don't get it, and continually look for the path to "Easy money"...
So with that said...
----- MY BIG ANNOUCEMENT!!!
I'm happy to announce that I am the new CEO and Founder of a great company, Multinational Associative Care Systems Corporation, or MACS and for a select few individuals, I am offering a great investment opportunity that can give you the chance to yield 18.5% upwards to 23%, yearly, and securitized by a broad range of assets.
For your investment of $100,000, I am offering a 18.5% return, if you give me $1 million dollars, I'm offering a 23% return, paid monthly! Tired of 1% bank CD's? Imagine opening your mailbox every month to a check! Well with MACS Corporation, you can.
But PLEASE hurry - this is a ground floor opportunity as I can only offer this investment to 23 individuals as our latest offering prospectus calls for a $15 million dollar funding round.
After we reach that limit, the offer is CLOSED. We cannot offer it until a new round is requested, so
you must hurry!
(And guess what? Vigilante, AndyBlack, and other LEGENDARY CONTRIBUTORS have already stepped-up to the plate and invested with me!)
So, what do we do?
I founded the Multinational Associative Care Systems Corporation (MACS) which is an accounts receivable financing organization that helps finance hospitals and healthcare organizations with funding while awaiting payment from government agencies, insurance providers, and patients.
What we do is we purchase the account receivables from various hospitals and healthcare organizations (HCOs) around the world at a greatly discounted rate. Since many hospital bills go unpaid, or are hard to collect, our discount on receivables sometimes approaches 90%. We then seek to collect on these account receivables via negotiated settlements with various funding agencies; Medicare, state Medicaid, HMOs, PPOs, insurance companies, and of course, the patients themselves.
Your safe investment is used to fund collection operations as well as to purchase the accounts receivables.
Our company offers a win win for everyone involved: Hospitals / HCOs receive immediate cash flow from us in lieu of bad debt and/or inconsistent cashflow, and our investment clients get a great return, securitized by MACS extensive assets and partnerships.
As I write this, we have clients around the world; US (74%) AU (9%) UK (5%) EU (11%) ... other (1%).
Join thousands of other investors around the world who enjoy safe, predictable returns, all while helping improve the healthcare in their community!
For investment information, please contact me.
------------------- THE TRUTH
The above "sales pitch" is nothing but a scam. MACS (Multinational Associative Care Systems, Incorporated) is SCAM backwards.
I made it up.
It's BS.
But doesn't it sound "legit?"
Of course it does.
That's how the scam works, often involving these 8 steps.
1) Create a complicated story, often involving multiple parties, international transactions, and then throw in maybe a 3rd world country (Kenya, Tanzania, or some other emerging market).
2) Load up the story up with big fancy words and acronyms.
3) Make sure your story resists diligence -- this is done through the complexity of the story. For example, with MACS, your mind analyzes the concept and thinks "
Wow, that makes sense
" -- and it's complicated enough to fend off any legitimate due diligence attack.
4) Create a snazzy website that screams professionalism; include pictures of distinguished "honest looking" men in finely tailored suits.
5) Throw various logos on the website to add credibility; could be a newspaper or blog
logo
, anything that makes the user think "
Wow, the NY Times logo is on the website - it must be legit!!
"
6) Create urgency: This offer is only available to 23 people -- get in now or its gone!
7) Show and display social proof "Joe Schmo is an investor" or "Bob, the owner of Bob's Pizza down on Main is an investor" or "Pastor Pete over at Bethany Lutheran Church invested!"
8) Validate the opportunity by "Rewarding" early stage investors by doing as promised - these early stage investors act as the "growth seeds" and will start telling their friends/families/and coworkers to invest, steamrolling the expansion loop. The expansion loop creates the exponential growth of the scam, enriching the scammer's pockets.
Now, imagine if I did exactly described as above?
How long do you think it would take me to amass millions, assuming I paid out all the investors as described for a year or two?
I'd guess it take me a year or less.
Folks, this is how Ponzi schemes and other scams are created and perpetrated.
It took me 10 minutes to create this one. Another day or two and I could have had the website created as well. In less than 48 hours, I can create an illusion of a $100 million company by simple virtue of a "story" and a "website".
I'm amazed at how many people would buy into the BS above. MORE than NOT would buy in, assuming it was coupled with a nice website, some nice graphics, and some official looking documents.
Folks, WAKE UP and SMELL THE COFFEE.
Easy money is easy for a reason...
--------
Note to the SEC:
This is NOT an official solicitation for money or for an investment. This story and investment description is
hyperbole
and
metaphorical
to show the community (and the internet) how scams are created and perpetrated. There is no investment. There is no MACS Corporation.