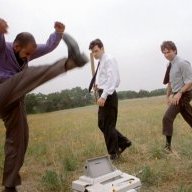 Freedom
Read Fastlane!
Read Unscripted!
User Power
Value/Post Ratio
155%
Feb 7, 2018
65
101
Can you get back into it now? Yes, the traveling can be a headache, but if you don't want to deal with large items like appliances and furniture, you don't have to. You aren't wrong for taking on a job to have consistent income, especially since you had a kid. I read the first post of your intro, what's your plan to not be like the 63 year old dude beside you who can't quit? You don't have to make this a permanent thing if you don't want to. Maybe the job pays enough to take care of your responsibilities and put something towards starting a business, but if not, I think this is a great way to get some money that can fund your "Don't be that guy" plan.
Thanks for the reply B_Mac. My momentum has been driving towards software/web stuff. I am trying to identify where I can serve people here, and I am finding a lot of great stuff in these threads. So far, I created 3 websites for friends and family who have their own hustles to help them and myself simultaneously.
However, honestly, I cannot say I have a solid plan right now, the road from where I am now to my desired destination is not really clear. My only goal is to get an actual paying client doing something by this summer. And then adapt from there. Vague as f*** I know but I am desperately working on it…
I might put in 30 hours a week and this year my taxable income will probably be $75,000 after everyone is paid and all is said and done. But, connecting this answer with what I was going to tell B Mac, I have a perfect situation and have a few things figured out that I don't think any others do. For example, I can only use a small percentage of 1 sales channel that I have because it works so well. I've figured out how to manipulate a certain social media so I can basically do what I want. I can post 80 ads a day if I want.... problem is, I do not want to hire a delivery guy so I basically can't post that many because my sales would be sky-high.... but I could if I wanted. That small percentage of my ideas to market bring in so many sales it's hard for me to keep up. And no, Craigslist is not what I'm talking about. I put about 5 ads a year on Craigslist. And no, I'm not breaking the rules on this social media platform. I actually spoke with them and they basically told me if it's working.... keep on keepin on. The reason I spoke with them is because I didn't want to be relying on this and then get booted. I also have a leg up on supply. Where lots of guys pay $70-$90+ per washer or dryer, I get them for $40-$50 each. It's really tempting to make it a big operation but I really love no stress, staying up till 2am and getting up at 11am. We don't 'need' the money.... we can only do so much with so much money, I just do it because it's fun and gives me something to do. Oh yeah, if I ever do get the wild hair to franchise this, we would add on refrigerators, stoves and dishwashers which would bring in o-so-much more profit. I actually bought a brand new refrigerator today for $400 delivered and will sell it for $900 pick up only. No type of delivery because I only lift light stuff.
@minivanman
those are good numbers for ~30 hours/week.