Please don't say tape measure.
What I mean is
personal development
– improving your skills and mindset.
How do I objectively track something abstract as my confidence or decision-making skill?
How can I measure my improvements in feelings like appreciation or humbleness?
You can't step on a scale, like you would measure your weight.
You can't count it, like your money when tracking your income.
It's quite a weird subject, and I really have my difficulties explaining it.
Stay with me, I've created graphs for this..
Maybe this example helps me to explain:
I was really bad at making decisions. I'm not longer that bad.
I've noticed that if I make a scary decision, I learn and my skill to make decisions grows.
And the next day a bigger decision arises.


I basicly grow with my decisions.
Look at this graph (which I've spent wayyy too much time on to create):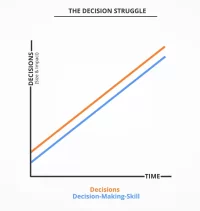 The Y-Axis tries to measure the decisions's scariness. It's size, it's impact, it's importantness.
It basicly tries to qualifies a subjective feeling.
Yes I'm that desperate if that is the easiest way to explain my problem haha.
If you take a look at one individual day though, without looking at the past,
you basicly see two single points
–
and the decision-point is above the decision-making-skill-point:

And while my decision-making skills grows each day a little bit, the decisions I have to make grow with it.
So every single day my
decision-making skill is below the decision
I have to make.
But if you compare my current decision-making skills to my decision-making-skills last year, you will notice a huge improvement!
Now, that setup is awesome to learn. Every day I have to grab something outside of my reach.
The problem:
Every day I feel like I don't make progress.

Because every day I'm facing decisions slightly above my skills.

The difference to the last day is too small to be noticed.
That bums me out, because every day I try to improve, but it still feels like I'm not getting better.
Sometimes I come across triggers that make me stop and reflect my decision-making-skill.
Maybe the trigger is a post on this forum about a decision I was afraid of to take but now feel comfortable in taking.
Maybe the trigger is a conversation with someone scripted, that complains about a small decision that is no longer hard for me to make.
I should note that decision-making is just one example. You could replace it with anything else you struggle with - confidence, productivity or happiness for example.
After all this text, my question is:
How do you measure and track subjective feelings & skills during your character improvement?
Three ideas I got while writing this post:
* Create fake triggers in your routine that make you stop and reflect (and compare)
* Don't measure the quality of a decision but the quantity. Don't try to find a number on how big the decision is, write down every time you make a scary decision. That will not help to compare to your old self, but will show that you are constantly progressing.
* Stop thinking about this problem and go a level deeper - don't tie your emotions to the improvement but to the process.
What do you do?
Can you give me any tips?
Can you share any stories?
I would really appreciate any kind of help!
Don't like ads? Remove them while supporting the forum. Subscribe.