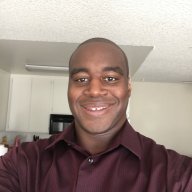 New Contributor
Speedway Pass
Hi everyone!
My name is Sampson! I am 35 years old (turning 36 in December) and I have been serving in the military for 16 years. I have read
TMF
and I have purchased
Unscripted
and am trying my hardest not to skip ahead out of fear of redundancy.
I'm here hoping I can rekindle that passion and fire I had when I first started this journey of building passive income.
For me, it all started in 2002 when I was in tech school and our instructor was reading "Rich Dad" through our break and long after it was over. He decided to stop teaching for that portion of the class and instead shared what was in the book. While I didn't pay too much attention that day, I ended up thinking about it again when I discovered that I needed a $500 down deposit for my first cell phone because my family ruined my credit.
From there I was dedicated to learning about money and having a great credit score. I cleaned up my reports, got out of debt, and after reading "Rich Dad, Poor Dad" I was ready to start building a passive income for myself.
By this time it was 2006 and I was in Japan. I was too terrified to do Real Estate, so I figured, why not do "virtual real estate" aka building a website. I ended up learning how to build an online income through a company called Site Build It!(SBI) and they had me learning the basics of building a website.
I decided to help people who needed a registry cleaner. Being an affiliate for every registry cleaner on Clickbank, I could give my review of each, offer the free trial, and then if they like it, I'd make commissions.
I focused relentlessly on the website for about 6 weeks.
Then just for kicks I decided to check my Clickbank account and noticed that my income was growing to the tune of $400 a day. I was extremely happy and terrified all at the same time. I did not have a plan for what to do with the money. I was afraid of it being taxed and all kinds of things, so I decided to reinvest my money back into the business.
So...I hired copywriters. Hired them to write better content to hopefully make more sales with the idea of rinsing and repeating.
Horrible, horrible Idea.
Not only did they write horrible copy that flatlined the sales, but I never saved my original work, so I could go back to what I had.
So I tried rewriting everything again. Except for this time I was not focused on helping the visitor, my focus was on making money. No matter what I tried, people smelled what I was up to a mile away.
I shut that site down and tried other niches and other sites over the years.
Some make money, but I haven't been putting my all into them, so they eventually die.
Rinse and repeat that over 12 years and now all I do is hop from idea to idea never really being committed to any one thing.
Now I am currently deployed, still debt free and will be home in October. With 4 years left until I am able to retire from the military, I want to be able to "Truly Retire" and not have to work a job somewhere like most people end up doing.
True retirement for me, is being able to live a life helping whoever I want, wherever I want without having to be concerned about money in any way. I want to be the one that encourages people that they can be successful too if they focus, work hard and be consistent. I want to be able to learn more, and travel without having to be confined to the 9-5 grind.
I have been reading the gold Threads here so far, and I am wanting to be an
INSIDERS
, but I'm trying to make sure that it's not because I want the new shiny thing.
Either way I look forward to reading, learning and hopefully having something to give back to the forum!
Thanks for taking the time to read my post.
See you in the posts!
Sampson