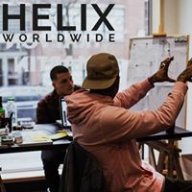 Bronze Contributor
Speedway Pass
As I stood across from the judge, facing 5 years in prison - I knew... that this moment would define me for the rest of my life.

I'm getting ahead of myself. Let me take you back a year:
December 12th 2014:
I've been on the run for about
two weeks
, and honestly, I've probably had less than 24 hours of sleep during that time. I'm currently at the height of a drug addiction. What started out
"innocently"
enough 7 years ago; selling weed in my city to make some extra cash when I was 16, has now speed balled (no pun intended) into a lifestyle of pill popping, cocaine snorting, drug dealing induced
frenzy
.
I exit a Burger King; moments earlier I had just partaken in a feast that contained an amount of drugs fit for a person with a
death wish.
As my girlfriend pulled up, I noticed that her was jaw shaking as if it had just participated in the Soul Train, doing the electric slide. Something screamed, "Dont get in the car!!"
But the idea of a bed and a soulless body cuddled up next to me seemed appealing.
This night was destined to end as quickly as it had started.
Moments later, our car was pulled over. The officer asks for our names. I provided him with the name of a person I had made up in my imagination. 2 Minutes later, we are surrounded by 9 police cars.
PAUSE

If you've made it this far, I
really
appreciate you. It's extremely hard to talk about this, but I think between my successes and hardships, there are jewels to be gained.
Fast forward a little bit. I'm now rocking one of those ultra rare, sleek, and modern onesie outfits that only the super privileged and most deserving are allowed to wear.
I'm waiting in the interview room to speak with one of those fancy public defenders. She walks in and says a couple indistinguishable words and begins to walk a way. I call out for her and ask her to sit down.
I say, "Hey, we need figure this out. whats going to happen to me?"
She replies, "Mr.McGhee, you escaped from parole, and committed more crimes during your escape. Your going to prison. There's no other alternative."
I return to my cell where my room mate was just taken a shit. As im locked behind the door, using my blanket to shield me from the smell of soy and ramen soup mixed with many years of bad nutrition.
I quietly come up with an idea that would forever change the direction of my life.

Everything thus far had been my choice. You see it didn't matter if my dad had abandoned me at birth, or that I had been picked on and beaten up as a kid. It didn't matter that I had been in and out of the judicial system for going on 10 years, or that I had went to prison at age 18.
None of that mattered. I planted a great seed that day, and oh did that muthafucka grow.
At that point, I'm thinking, we'll if my lawyer is
guaranteeing
that I'm going to prison then why do I have her. So I made one of the scariest decisions of my life.
I fired her.

I remember the judge looking at me as if I was
OUT OF MY MIND.
They are required to ask you a set of questions, the conversation with something like this:
Are you a lawyer:
No.
Do you know how the law works:
No.
Whats your highest level of education:
GED
Are you sane:
Yeah.

How does a person who was
no lawyer experience
go to battle on his own behalf?
I had no clue at the time, but I did have one thing going for me....
I had a lot of time.

I'm highly successful. Why? Because up to this point I had gotten everything that I had asked for. I asked for the life I had, and even though many would argue that my current situation wasn't "success", I believed otherwise. My life was a culmination of every decision that I had made thus far. I was successful at making the decisions that I wanted. No one made decisions for me.

So if I wanted to change my life I had to make different decisions, and the difference between these two decisions would decide if I would do 5 years in prison, or gain my FREEDOM.

I'm going to add to this thread, and finish this story. In it, I believe contain the habits of success, and whenever I feel down or unmotivated, I always refer back to it.
You see I'm not confident in my communication skills, my programming skills, or my business skills.
I'm confident in my ability to find a solution and get things done no matter the situation.
Thats my value. There will always be someone smarter, faster, prettier, and richer than me. But my ability to find a solution is where I shine.
The bounty of riches, success, happiness, etc are all steadily waiting for the person that will find the solution to attain it.
The value I will create in this thread are as follows:
Ideas for money making ventures
Steps to identify opportunities
Insights on how to exploit these opportunities
RESULTS
All of this will be based off my experiences, and I hope to be able to bounce ideas for your personal experience.
I'm not telling you that I'll make 1 mill in 6 months. I do believe though that I am always one conversation, offering value to the right person, and/or one action away from 1 mill. I am always on its doorstep. I think that everyone should have that confidence in themselves.
Hopefully my story will inspire you to take action. I feel as if I can do it, then anyone can!
Lastly I may not be able to tell you the exact steps to reach your goals, but I can tell you pretty confidently
what not to do!
And from that I believe you can use it to actually get what you want.
Feel free to talk about your stories and what you've been through! I'd love to discuss how you've triumphed over tribulation.