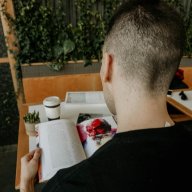 New Contributor
Read Fastlane!
Read Unscripted!
Hello!

My name is Jamie and I am in my early 30's. I have always been involved in some form of entrepreneurship from a young age. My family has an auction business, so I've always been intrigued by flipping/picking things for a profit.

I started off by picking and buying things from auctions at a young age and selling on eBay. I was young and it was just fun to see the results of a little bit of work. Fast forward a few years and I ended up going to school for New Media Communications; majoring in the marketing and design field.

After school I worked at such places as newspapers, advertising agencies and print shops. I liked what I did, but just never felt like I was rewarded for my hard work. I felt I needed a change in my career.

Health and nutrition is a big part of my life. I came across a franchising opportunity for a quick serve restaurant. The main focus was smoothies, wraps, salads and things like that. So I relocated to a different province to open this store. Things were great at first but then things started piling up. High costs of inventory, labour and other costs. Eventually I ran out of cash. I had to close the store. I couldn't afford to keep digging into my savings, parents pockets and other means. This was a bad time in my life. Everything I worked hard to do was all gone. Most of my savings. I was left with nothing, except the contents of my home. I had no choice but to file bankruptcy. (This isn't easy for me to talk about.)

So after the failure, I had to get back into the workforce. So here I was, in this new city that I moved to, to start this franchise and it failed. So I applied at this print shop/marketing company. The guy I applied to recognized me from my store. So I told him my story that the store is done and I didn't know what to do. I was vulnerable. So he offered me a position as manager of the print shop, with a caveat. Basically in order to get the position he would want me to become a partner. Like I said, I was vulnerable, so he said I would need to put in $10,000 for shares in the company. He was a smooth talker saying that this company is growing. I agreed.

Over the next two years the relationship with this guy was bad. He is bi-polar and would come unglued on me and other staff for no reason. It was his way or no way at all. He loved to micromanage. In those two years, three salesmen had quit because they couldn't work with him. He was very hard to work with and the relationship was toxic.

During this time I have been working on Amazon FBA as my side hustle while working at this print shop. I went to several workshop,learning new tactics and transformed it from a hobby into a business. I was able to go from making $500 to $5000 a month just on the side. So I knew I had this in my back pocket.

I was unhappy in my city, and most of my Amazon products come from a large city a few hours away. I wanted to move there as it has everything for me. Being single, there wasn't anything holding me back except my $10,000 investment and the job. So I told him I am thinking about moving a few months from now, which would've been December 1, 2018. Well he didn't like that. The following Monday a NDA/Non-compete form was on my desk. I refused to sign it under the direction of my lawyer. Why should I put an artificial restraint on my future? What if I wanted to work in the new city and they had clients in the area I was living before? Long story short, I was terminated and received severance. Luckily I had a promissory note, which enabled me to get my $10,000 investment back.

So, as of now I am going to move to a new city for a fresh start, work on my Amazon business and live a more healthy life in a city that has more to offer for me. My plan is to grow the business and then eventually get into more Fastlane projects. If I need to get a part time job while growing the business, then I do.

This was a long post, but I wanted to get it off my chest so to speak. Looking forward to reading and learning from this forum.