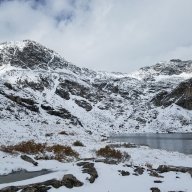 Contributor
Read Fastlane!
Read Unscripted!
User Power
Value/Post Ratio
86%
Dec 10, 2017
85
73
42
When I was a kid my aunt used to baby sit me if it was a good day I would get to go to work with my uncle he owned a small concert company. The guys would keep me busy getting hammers and nails or what ever. I would ride on the back of the flat bed truck with the dog Goldie (bet you don't see that anymore haha).
In middle school when the weather was good he would pick me up school and we would go to work. In the summer I worked 46 hours a week at a lumber mill. I would work for him Friday afternoons and on weekends. (Have you ever carried over a 100 lbs of diesel soaked concreat forms down a 6" wide wall in 90 degree weather?)
In high school ( summer) he was working at a stone quarry 40 hours a week swinging a hammer. I was working 40 as a masons tender caring cinder blocks, rocks and motor up stairs and Scaffolding. We would get together after work on on weekends to work often till 9 or 10 at night just to be back at our day jobs at 6 am.
After high school I got the F*ck out of there. Just too become a workachollic somewhere new.
His wife left him for working to much but she barley had any income. A few years ago I got to visit him for a hour or two. His house was paid off (I was so jealous that is where I want to be i said) and a few more years his x wife would be paid off. Then just a little for retirement. We talked about my girlfriend who left me for working to much.
His parents found him this morning in his drive way dying in 0 degree temps. He died at 55! I am 19 years from 55. He was the type of guy that would work 60+ hours and then make time to help a friend or family put a roof on there house for a cold beer and a burger with a smile. He would be the first one there and the last one to leave. I can't remember him ever going on vacation or taking any time off. If you only think I am saying this because he is blood you are wrong he was not but he felt like it.
I also don't want you to think I am crying or whining about working those long hard days. I loved it!!! He treated me well I learned allot and it kept me out of trouble.
MJ s books feel like they are stabbing me with a dull rusty knife of reality today! MJ keep up the good work sugar coating shit never helps anyone out!