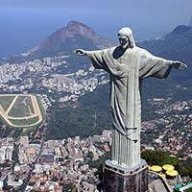 Contributor
Read Fastlane!
Read Unscripted!
Hello everyone !
I'm gonna introduce myself. I'm a brazilian guy from a favela in Rio De Janeiro. I'm 18 y old.
To live in a third / second world country is harder than you think. But this isn't an excuse , of course!
So here I am . My reasons are kinda obvious.
I'm tired of living in poverty and having to throw myself on the ground everytime when a shooting begins. The weird thing is that I have been watching a lot of videos on YouTube about self development and I have finished both
TMF
and
UNSCRIPTED
. So there is a enormous discrepancy with what I think and the people who live around me . My plan is the following : I'll bet on my strenghts and learn to code web apps in Rails . After that I'll be able to freelance , finally leave my parents home and live alone. So with that code skill I'll build a online business in my spare time.
PS: Don't tell me to get a 9-5 job because Brazil'economy is in serious trouble.
Last edited: