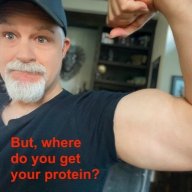 I followed the science; all I found was money.
Staff member
FASTLANE INSIDER
EPIC CONTRIBUTOR
Read Rat-Race Escape!
Read Fastlane!
Read Unscripted!
Summit Attendee
Speedway Pass
User Power
Value/Post Ratio
441%
Jul 23, 2007
37,496
165,501
It never ceases to amaze me how much quantum physics blows my mind just trying to conceptualize it, much less understand it.
Read this page and try to grasp it all.
How Quantum Physics Explains the Invisible Universe
Some excerpts...
In the realm of quantum physics, observing something actually influences the physical processes taking place. Light waves act like particles and particles act like waves (called

wave particle duality

). Matter can go from one spot to another without moving through the intervening space (called

quantum tunnelling

).
Information moves instantly across vast distances. In fact, in quantum mechanics we discover that the entire universe is actually a series of probabilities.
The idea that observation changes a particle is really, well, odd.
In our world, we just achieved teleportation thru quantum entanglement...
Off-Topic - Beam me up Scotty! (We have teleportation/quantum entanglement! )
If you're in the mood for this...
Start reading!
Feel free to discuss!