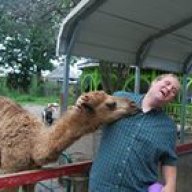 Silver Contributor
Speedway Pass
Started the year at 40 rentals.
Have 72 at this second with enough to take me up to 85 in contract, set to close literally any day now. Hope to close em before the end of the year just so I can say I doubled, but who knows.
This is the year I started seller financing on a bunch of stuff, it's making my money go much farther with a minimal cashflow hit.
This year (Including deals in progress) It's worked out surprisingly well, although I was pretty skeptical at first.
I am rapidly learning the power of asking
- What I mean by this is reaching a point in my life where I finally feel like I'm in the driver's seat, and no longer the poor, last on the food chain kid who has to beg for crumbs. For the most part I felt this way completely up till the point I got into rentals. As I've been a landlord and growing the business I feel less and less this way. This year I finally felt like I was in the driver's seat talking to people, no longer begging for deals but telling them simply why they needed me, and WILLING to turn something down. I've already turned down a couple 'free' houses this year. The feeling was great, however as you see below, I've taken on two 'free' houses that will be good deals.
Deal #1 - 5 apartment units 2 houses
Cash to seller $20k

Cash for repairs $20k
Financed amount $150k
Cashflow $2k/mo
60% COC-ROI
Deal #2 - 2 apartments ,2 houses
Cash to seller $5k
Cash for repairs $0
Financed amount $105k
Cashflow $700/mo
168% COC-ROI
Deal #3 - 1 house
Cash to seller - $0
cash for repairs - $300
Financed amount $52k
Cashflow - $200/mo
800% COC-ROI
Deal #4 - 2 apartments, 1 house
Cash to seller $0
Cash for repairs $1,000
Financed amount $50k
Cashflow $600/mo
720% COC-ROI